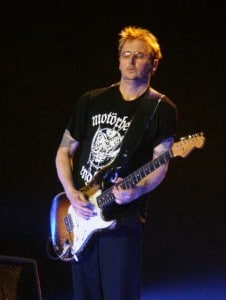 Kudos to Pearl Jam lead guitarist Mike McCready.
Mike is using eBay to auction a Gibson Flying V signed by the band's five members. The proceeds will go to help folks suffering from ulcerative colitis and Crohn's Disease.   These are horrible diseases at best and completely life-changing at their worst.
The auction is being run by The Wishlight Foundation and the proceeds are going to The Crohns and Colitis Foundation of America.   Mike reportedly suffers from Crohn's Disease, but the continuing trend of bands creating or assisting foundations is one of music's best characteristics in the last generation.   Artists who support human services are adored by their fan base.   We're still writing about Pearl Jam twenty years later for making great music, but lots of artists make great music after their biggest days.  The difference is that those artists who give while on top continue to be feted and relevant for years.
Socially responsible bands like Pearl Jam and U2 catch a lot of grief for their unabashed commercial ties.  They should receive our thanks even if we're not directly affected by their philanthropy.
If you want to go buy a wicked cool guitar, go bid on McCready's Gibson at eBay.