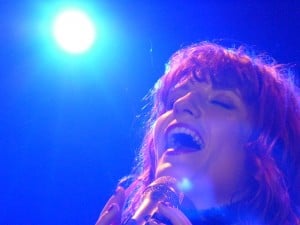 Based solely on vocals, it's the Josh and Melanie show. They are head and shoulders above Chris and Marcus. But when you take into account stage presence and entertainment value, Chris and Marcus make it a much tighter race. One of them goes home tonight and my guess is Marcus.
Next week is the finals and if I had to choose right now, I think Melanie wins it, with Chris coming in second. There's no way in hell that Chris should beat Josh in a singing contest, but he's just a much more likable person with tons more charisma.
Mr. Anti-charisma lets us know that Nicole is performing tonight. Maybe that means we don't have to deal with her as much as a mentor tonight.
There's something that I've always wondered about. When the mentors are introduced, they all have some way of saying hi to the audience. LA does a kiss salute thing, Nicole does a submissive bow, Paula does the same kiss salute that LA does, and Simon winks and salutes. Did they decide at the beginning of the season that they would always say hi to the crowd in the same way? Are they that uncomfortable that they can't switch it up. Why doesn't one of them switch it up and cup their ear like Hulk Hogan?
The final four perform Blackstreet's No Diggity. This is actually Marcus' calling. If only he was born 15 years earlier. He could've been K-Ci Hailey, Sisqo, and one of the dudes from 112 all in one. Chris actually starts his verse too early and it throws the entire group off. Josh looks so uncomfortable singing this song.
Florence + the Machine are performing tonight. Flo starts with her back to the audience and gives us more of a back shot than J. Lo did at any point on American Idol. They are singing Spectrum, which includes the lyric, "Say my name." Beyonce did a double take before figuring out they weren't covering Destiny's Child.
Of course, the Teflon Don Chris Rene made it through first, like he always does. Melanie Amaro joins him in the finals. Josh Krajcik and Marcus Canty are in the bottom two, but it's put to the audience vote. There is no singing for lives tonight.
Josh says he has a lot of hope. Marcus just wants America to give him a chance.
It's Nicole's turn to sing. The girl has a decent set of pipes. She's just annoying as hell.
Melanie thanks all the voters and Chris loves all his young homies.
And the last contestant going into the finals is Josh Krajcik. Marcus Canty is no longer.
Next week a winner is crowned.