Artist: Mawwal
Album: High Hills in the Creaving Road
My largest musical discovery of 2012 was songwriter/ band leader Jim Matus, long-ago Berklee composition student and guitar student of jazz great Pat Metheny. First, I discovered his three albums leading Paranoise, who began as a skronky, brassy,  angular New Wave band for Start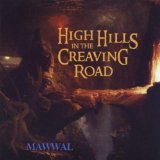 a New Race, but evolved — here's the relevant part — into making heavy, hypnotic World Music with tunings centered in the Afghanistan/ Pakistan region. Loud, distorted guitar rock was joined by string sections and tabla drums; by choral ideas swiped from Morocco and Bulgaria; by low didgeridoo drones. The results were equally suitable for dance music, trance music, or thoughtful headphone listening. If Paranoise's Ishq were a 2012 release, it would be in my top ten. Though Paranoise has disbanded and Matus formed Mawwal instead, High Hills in the Creaving Road sounds far more to me like Paranoise than like anything else in my collection.
Not that Central Asian musical ideas should be completely alien or exotic. The songs center on guitar/bass that wouldn't sound out of place on Alice in Chains's calmer records, or some of Richard Thompson's albums where he's really in the mood to show off his darkness and his guitar skills, or even Alanis Morissette's Baba/ Can't Not just-got-back-from-India phase. They also use Indian tabla and African talking drums for percussion and (in We Must Fall 's case) long, wailing flute melodies, and theirmale/female harmonies and non-English duets make more sense on Eastern scales than on the ones Meat Loaf and Ellen Foley use. But Foley isn't a bad comparison for the strength and flexibility of the (several) female singers — Richard Thompson's low voice and careful diction, with less grouchiness and more sustain, would be a good comp for Matus's singing. I don't need to be educated to find the songs catchy. No Finer Men Than We even feels like a rousing Irish folk song — one somehow written with Middle Eastern scales and a trumpet solo, to be sure. I'd still try it on Dropkick Murphy or Pogues fans happily enough.
I'm not certain why I find Mawwal's High Hills in the Creaving Road less terrific than Paranoise's Ishq. One notion is I've spent too little time with it (it was a November release). Another is that Paranoise had a bit less of Alice in Chains's weightiness, and more of Fairport Convention's or Jethro Tull's limberness. They're both quite good, though, and perhaps which comparison *you* prefer would help you decide among them.
********