Artist: Paul Weller
Album: Sonik Kicks
Paul Weller is a major star in England; has been since 1977. First he led the Jam, the most articulate and cautious of the first-wave punk stars. Then he led the Style Council, who made smooth soul/ R+B/ swing jazz musics. Then, under his own name, he spent two decades making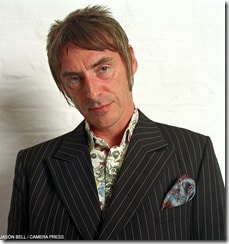 rootsier soul-rock: brand new Classic Rock for the Adult Contemporary stations. I've never really been a fan. But suddenly, in 2012, at 54 years old, he essentially made his own Super Furry Animals album: flashy, groove-based, eclectic, ultra-modern, and above all, playful. (As Pooh observed, you never can tell with Top of the Pops stars.) Sonik Kicks he called it, presumably misspelling it to avoid licensing hassles from Sonic the Hedgehog; it went to #1 on the U.K. albums chart.
There's a lot of kinds of music here, and you just need to wait a bit if you don't like one, since most of the tracks range from 2:00 to 3:41 in length. Kling I Klang rushes by as a punk polka strafed by "futuristic" synth music from '70s concept albums, and also by autoharp. By the Waters is soft, plaintive, and violin-centered. That Dangerous Age is peppy neo-Motown decorated with prog-rock organ and hip-hop/ techno beatwork. Study in Blue, the one long track here, is like Blondie's Call Me reworked into drifting and exploratory jazz-pop that wanders towards ambient techno; it works far better for me than stuff like that generally does. Perhaps because it feeds into Dragonfly (heavy psychedelic pop that reminds me of Babylon Zoo), then When Your Garden's Overgrown (upbeat psychedelic power-pop full of bright-eyed keyboard lines), then Around the Lake (a high-speed 2:11 of menacing two-chord bass, alien twittering, echoed vocals, and echoed everything else). Etc.
Paul Weller's lyrics on Sonik Kicks are sketchy and mostly play on mood, although songs like That Dangerous Age show a continued talent for personality profiles. The song structures are straight-ahead and mostly play on mood, although a few — the slower ones, mostly — have nicely imaginative melodies. There are a lot of moods here, but the overriding one, to me, seems to be creative play. No wonder I'm warming to the guy.
– Brian Block
To see the rest of our favorites, visit our Favorite Albums of 2012 page!