Last night on American Idol, the judges and Ryno Seacrest kept mentioning how important it was to make it into the top 10. Only those who make the top 10 are allowed on the tour, yet I'm not sure why they don't take the entire top 12. I don't think that's ever been explained.
If you're Paige Miles or Timothy Urban, you're probably expecting to not get any tour money. Crazier things have happened in American Idol voting though. If I'm picking, I think Paige goes home. Even when she was good, she wasn't popular for whatever reason.
If you fast forward through the group song like I usually do, you would've missed the top 11 singing Wham's Wake Me Up and you would've missed Didi slipping and nearly wiping out on stage. She wasn't doing a jitterbug. She was just walking.
Siobhan's boss Brooks is in the audience and Ryno pointed out that he isn't going to shave until Siobhan wins. And her friends are next to him caked in fake blood. And people were telling me Siobhan isn't a creepy girl.
Ryno tells creepy girl to pack her bags because she's going on tour. Siobhan is safe.
He tells Lee and Casey to stand up together. He then tells Timothy and Paige to stand up together. I have a feeling we're seeing the two top vote getters and two of the bottom vote getters. Paige and Timothy are in the bottom three. At least America is voting correctly so far.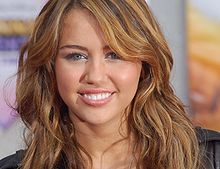 Miley Cyrus is singing When I Look At You and is having quite a hard time of doing it live. Her voice is definitely straining. You know how rappers have hype men who also help layer their raps live? Miley needs a Melinda Doolittle to help her layer her vocals live. This is also why I think she's going to be a much better actress when it's all said and done.
I wonder if Andrew Garcia joins Timothy and Paige?
Ryno tells Aaron Kelly to stand up. I still thinks Aaron is going to Hogwarts in the fall. Aaron can sit down. He's through to the next round.
Didi is safe. She should be very thankful. Big Mike is safe. He deserves it. Crystal is safe too.
And it's down to Katie and Andrew for the last person in the bottom three. And in a bit of a surprise, Katie is in the bottom three. I'd be very surprised if she goes home.
Ryno sends Katie back to safety. She's on the Idol tour. And Timothy Urban can't hide his disappointment.
Demi Lovato and Joe Jonas are finishing off Disney week on Idol with Make A Wave. Wait, it wasn't Disney week. It was Billboard week. Whatever.
First Hannah Montana, now Sonny With A Chance and little Joey Jonas. Where's Selena Gomez? What's funny is that Simon would probably kill all three singers if he were to judge them honestly after these performances.
(By the way, before we get to the elimination, remember to visit us next week after Tuesday night's show to put in your votes for the bottom two and also who you think gets eliminated. You could win an Amazon Gift Card.)
And, the person who is eliminated is Paige Miles. Simon says that even if she performed well, they weren't using the save on her. I hope they don't make her sing Against All Odds again.
Thankfully for our ears, she didn't have to sing the song again. She's singing All Right Now.
I'm two for two on my picks. I'm shooting for three for three next week. Be afraid of me. Very afraid.
Photo of Miley Cyrus by Wikipedia and shared through Creative Commons.