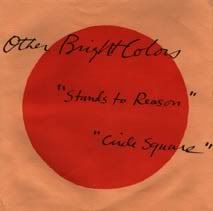 OTHER BRIGHT COLORSÂ  "Stands To Reason" b/w "Circle Square" (1985)
Sporting no visible label name or serial number of any sort, Other Bright Colors' first and only 7-inch appeared magically in stores around the fall of 1985.  This was, as you can guess, a fertile time period for young indie bands in the southeastern US.  Early '80's LA punk stalwarts Black Flag had forged a giant path, like a modern-day Lewis & Clark, through the Deep South and the Great Northwest and back again, paving the way for what would become the American Indie Revolution. 
Soon, kids nationwide were turning burned-out churches and abandoned VFW halls into punk co-ops, creating fanzines and record labels from Xerox paper and glue, and galvanizing bored drop-outs everywhere to stand up and say, "Fuck, we can do this, too!"  Suddenly, it was as if there was a flood of little black plastic discs raining down from the sky.  The "45-as-art" concept that started when Television's "Little Johnny Jewel" hit the stands in '74 had now come full-circle.  This was our CNN.  Or maybe not, but whatever it was, it was glorious.  Anyway…
Hailing from Chapel Hill, NC, Other Bright Colors quickly gained a foothold in the greater East Coast rock clubs with this sweet little teaser of a single.  I remember the thing that caught my eye about it was the way the artwork, a simple handwritten scrawl over orange-and-flesh backdrop with sepia-tone "band frolicking through nature" photo on back, seemed both very D.I.Y. and very professional at the same time.  And the rich music contained on the plastic held even more mystery.
OTHER BRIGHT COLORS \"Stands To Reason\" on YouTube
The ringing open-chord intro to side-A's "Stands To Reason" brings to mind James Honeyman-Scott on the first Pretenders LP, but soon the bass & drums kick in and POW!  It's Tom Verlaine backing up Gram Parsons with the Crazy Horse rhythm section.  The Grand Ol' Opry has been moved to The 40-Watt Club, ladies and gentlemen!  Don't let the swinging saloon doors hitcha in the butt on the way out!
OTHER BRIGHT COLORS \"Circle Square\" on YouTube
On side-B, the band explores deeper electric folk roots with "Circle Square," a beautiful tale of lives lost during the Civil War.  Cascading guitars chime their way up to the end of the last chorus, where an odd time-signature takes the song out, then drops it into a strange bog of reverb at the end.  Jerry Garcia would be proud.
Five or six years later, bands like The Jayhawks, Uncle Tupelo, The Gear Daddies and anyone else who ever borrowed their older brother's copy of Grievous Angel were copping this exact sound and calling it "Alt-Country."  But to me it begins right here, on this unassuming little 45 from The Triangle, with no label or serial number.
(Other Bright Colors released one full-length LP, the critically acclaimed, Mitch Easter-produced Endlessly Rocks The Cradle in 1987.  Some members continue as Mind Sirens.  More info can be found here and here.) 
NEXT WEEK:  Smokin' Chinese cigarettes in the Texas Blues Room behind The Sub Pop Singles Club.