Hey! Remember this show? Remember the band who won it? Maybe not. It was three years ago, after all, and unlike the American Idol which all but guarantees an annual outlet for its past winners and finalists to remind their fickle-by-design audience that they still exist, the Next Great American Band has not since returned to the airwaves. (I'm actually still holding out hope for Season 2 of Bands on the Run! Flickerstick Rulz!!!)
Moreover, where Idol winners often have an album assembled and rushed out to the market in time for Christmas shopping, Next Great American Band winners The Clark Brothers seemed to drop off the face of the earth, leaving the few of us who watched the show and fell in love -err mild infatuation with the Appalachian trio's thrilling (for prime time) acoustic conflagrations of bluegrass, pop, and classic rock to wonder, y'know, wha'happen?
The Clark Brothers "Gimme Shelter"

Sometime between then and now, the Clark Brothers – Adam, Ashley, and Austin – were signed to a major label, and then got dropped by the label in a bit of corporate re-shuffling. At which point, they changed their name to Sons of Sylvia, signed with 19 Entertainment and Interscope, and showed up on a duet with Carrie Underwood called "What Can I Say". Now, the band is on tour with Underwood in support of their long delayed debut album Revelation.
Carrie Underwood with Sons of Sylvia "What Can I Say"

Though the Sons of Sylvia had previously, along with three more of their brothers, recorded and even charted a Top 20 Country hit 10 years ago as the Clark Family Experience; and though the instruments they play (fiddle, mandolin, slide guitar) look and sound a little, y'know, bluegrassy; and though they are touring with Carrie Underwood, it becomes clear listening to Revelation that Sons of Sylvia are no more a country music band at this point than OneRepublic, whose lead singer-songwriter (and one of 19 Entertainment's favorite go-to hit-writers) Ryan Tedder co-wrote and produced the group's debut single "Love Left to Lose". As with many of Tedder's other hits, the song boasts a big, open-air sound with a full-throated campfire folk sing-along of a chorus, making it an immediate winner when you hear it on the radio.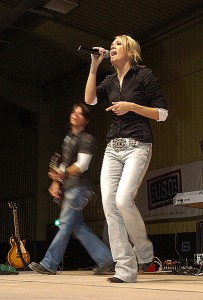 The band carries that bigness with them throughout Revelation, almost to the point where it becomes a little too much of a pretty good thing, both in the record's anthemic sound, but also in lyrics (see the title track) that seem to be reaching for the spiritual profundity of Bono, circa 1984. The album opens with "John Wayne", a gorgeous statement of devotion that gets oversold by Ashley's trying-too-hard shouty high vocals on the chorus, and ends with a strange assemblage of sounds (is there a song in this?) called "The War Within".
There's no question these guys are talented, and that they're passionate music-makers. But the fire and brimstone they brought to that cover of "Gimme Shelter" on TV a couple years ago seems to have been compromised in the band's quest to come up with a great pop/rock record. I'm not one of those people who believes that the words "greatness" and "pop/rock" are mutually exclusive; I think what Sons of Sylvia have attempted with Revelation is admirable, promising, and totally listenable. (I mean, seriously: pop music with actual stringed instruments, people! How awesome is that in 2010?) But listening to Revelation is like watching someone trying to start a fire by rubbing sticks together, generating occasionally thrilling puffs of smoke, but never quite acheiving something we might be able roast marshmallows over.
Sons of Sylvia "Love Left To Lose"