S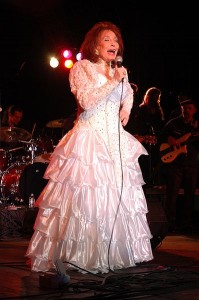 eal brought the crowd to life with a Lifetime Achievement Award for Leonard Cohen. Then he opens up with another performance. No boring awards here.
Roll out the songs.
Here's Pink, doing herself proud in front of the industry and a worldwide television artist. Her outfit is a cross between nun's habit and none habit. She is glamour and spins through the track without blemish eveas she disrobed into truly none. If Jerry Falwell hadn't died, this would have killed him. Our girl spins as though in a circus, looking sexier by the minute until she is drenched in water and hit every note while spinning above the crowd in fabric.
Amazing.
Miranda Lambert and Keith Urban, both beautiful, look pretty pedestrian after that. They announce Loretta Lynn's Lifetime Achievement Award and a Trustee Award for long-timer producer Walter Miller.
Best New Artist, the Kiss of Death Grammy, that Gaga should have been eligible for rolls up. I told Money Mike that Hilson was the safe Academy choice although The Ting Tings or MGMT should win. Zac Brown Band pulls the well-deserved upset! The boys look happy, yet even though they are performing later, they get played off.
Miley Cyrus, all growed up, introduces the Peas. Fergie gets "mother-father" in place instead of the lyric and CBS reacted too late for the delay. CBS began experiencing audio difficulties. Language. After watching Pink spin above the crowd, dripping water and dressed in ribbons, do we really need to worry about some lyric. BEP does their typical strong musical theater performance. I've Got A Feeling brought everyone out, robots included.
Welcome to the Future, they exhort the crowd. Except, you know, for the censorship part.
Loretta Lynn photo: Scott Schram http://schram.net/