Artist: Beth Jeans Houghton and the Hooves of Destiny
Album: Yours Truly, Cellophane Nose
Beth Jeans Houghton writes elegant melodies that flip willingly from major to minor key and back. She sings them in a pure, trained-sounding voice with somewhat flute-like properties. She and her Hooves of Destiny accompany her songs on a wide range of instruments: the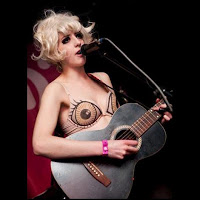 rock standards, but also frequent violin from Findlay MacAskill, and ukelele, piano, harpsichord, and a wide range of tuned percussion — vibraphone, glockenspiel, timpani, bells — from Houghton herself. At their humbler moments, they fit somewhere between pop-country ballads and the pastel late-Beatleisms of Sam Phillips (the female ex-Christian-scenester, not the man who discovered Elvis Presley). At their wilder ones, they remind me of the last couple of Maria McKee albums, and are civil but unhinged, in a way that's either fun or unnerving.
Which is how I feel about the lyrics. As could fairly be guessed from the band name and album title, Beth Jeans Houghton's an interesting phrase-maker who's not afraid to be cryptic. I think I can make out an adulterous narrative that won't end well on the dulcet waltz Nightswimmer: "My darling wears his clothes to go swimming at night./ Me, I can only hope that he'll go out with the tide./ You're my only love, and I can't keep my head/ above this ocean that you poured all over the bathroom". I think there's a song about parents and home in the sparse, haunting Barely Skinny Bone Tree, and I'm guessing it's one in which blood is thicker than water but still is a liquid and known to make messes. Sweet Tooth Bird brags of killing a bird that spoke "words so sweet/ they would goddamn rot your teeth". The jaunty fast piano-practice waltz Carousel is menacing: "Take off your shoes, hang up your coat/ witness my words as they jump down your throat…/ Fall through the door, and wait in the hall/ silence it permeates all sixteen walls/ It won't happen again, so children take note/ It's a funny feeling at that".
Like I say: interesting phrases here. And a melodic, decorative, half-loopy pop music that's certainly a sort of thing I enjoy. Still, for half the songs, I have little clue what she's getting at, except my hunch they'd be bad wedding song choices. Plus, when Carousel ends and there's some seconds of silence and then a brief hardcore punk song starts — like a double-speed Clash or a happy Dead Kennedys — it's the punk song that I find myself humming later. I recommend Yours Truly, Cellophane Nose. Gladly! But — without implying that the quirks of my taste are important — maybe I'd recommend punk vibraphone and punk timpani even harder…
– Brian Block
To see the rest of our favorites, visit our Favorite Albums of 2012 page!