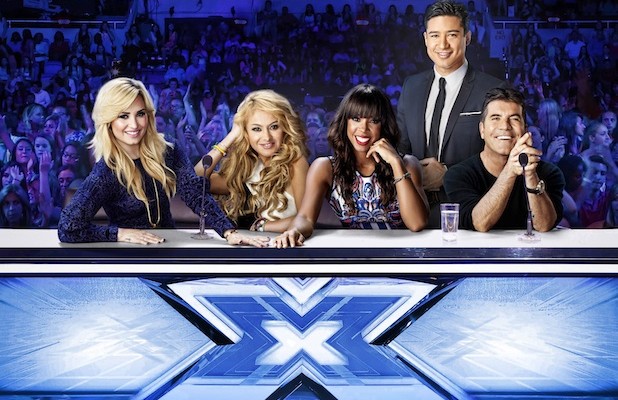 Last weekend's vote was a surprise for me. I'll admit that Khaya Cohen was stiff, but vocally, there's no way she should've been eliminated yet. And while I was the opposite of a Tim Olstad fan, I don't think he should've left the show before Carlito Olivero. However, since that last elimination was a mentor vote based on the sing-off, I guess it was Tim's own fault he left earlier.
But so far, out of all the voices, the only voice eliminated who could've actually won this show was Cohen, so I guess we're doing a good job at keeping the right voices on the show.
It's time for the X Factor USA recap.
Performances of the night
I've never been a Jeff Gutt fan. I've always found him too pouty, too depressed and overly dramatic. But, with his performance of Feeling Good, he finally won me over. The guy is a single dad with a great story, but until that performance, I felt like he was pretending. That dude is real now.
Ellona Santiago may have tied Jeff for my favorite performance of the night with Mamma Knows Best. She's a vocal powerhouse. Just watch.
Duds of the night
Once again, there wasn't really a dud on the show. I may have to change the title of this portion of the post. If I were to rank the bottom two, it'd probably be Carlito Olivero and Josh Levi. And yet, both performances were the two strongest of each so far. They just aren't as strong as the rest of the competition.
Who are the front runners?
After tonight, it's definitely Ellona. She was the favorite of each mentor. Rion Paige is also having a heck of a competition. Her performance of Swingin' opened the show strongly. She looked super nervous and then by the end, was rocking out. She's really the heart of this show, which counts.
Alex and Sierra
I have decided to discuss them (well, specifically my new wife Sierra) each week as long as they're around. How adorable is Sierra? So what if Alex sings better than her? Sierra's the money behind the act. And yes, even with boring Alex, they are who I'm rooting for.
They also had the most creative choice, doing a big band version of Taylor Swift's I Knew You Were Trouble. While I don't think it worked 100%, it was pretty ballsy. And yes, Sierra rocked it.
Who goes home?
It has to be Carlito right? Or will his fans vote for him in droves because they saw how vulnerable he was last week. I'd also worry about Josh. An outside chance to leave this thing is Lillie McCloud even though I really enjoy her.