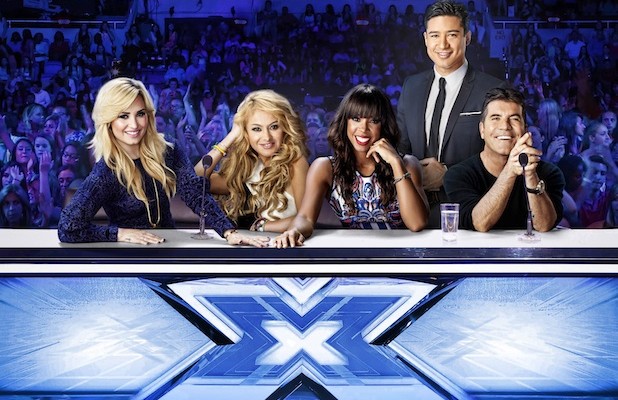 Oh X Factor. Why can't you do anything right? And how much of this is to blame on Simon Cowell? Well, from a technical perspective, it's not his fault that there was a technical slip-up, but this is his baby and the Mickey Mouse mistakes will all direct back to him as the face of the show.
If you had invested two hours into Wednesday's show like I did and then saw on Thursday that you weren't going to get what was promised, which was an elimination, did you even bother with Thursday's show? I don't see why you would've. According to the ratings, no one did.
The rhythm of the show is off. After eliminating someone tonight, they're eliminating two people tomorrow. I wish the show was more organized. You have to think that this is probably the last season of the X Factor in the USA.
X Factor Elimination
Carlos Guevara was eliminated surprisingly. It made sense in that he was a great story, but when it came time to deliver, he didn't deliver. Still, from a human interest story, they have to be disappointed that he was the first elimination. They could've told many more stories about Carlos.
Performances of the night
It was 80s night. This was both good and bad. It was good in the sense that most of the songs were fun and recognizable. But being recognizable made some of the acts try and change them up too much.
Khaya Cohen performed Madonna's Borderline, which was the perfect performance of the night. She has that Amy Winehouse twang. To me, it's one of Madonna's most fun song and Khaya's performance was fun as well. However, she has the chops to sing it better than Madonna ever could.
Rachel Potter and her legs performed Heart's Alone. It was a diversion from her country style, but it worked well because it showed off her vocals and stage presence. She was once booed on stage, but now she's getting those cheers, deservedly.
Rion Paige sang Pat Benetar's We Belong very well. She's such a ball of fire.
Duds of the night
Tim Olstad just doesn't have it. He redid Phil Collins' Against All Odds (Take a Look at Me Now) and if I closed my eyes, I'd think he did a pretty good job. But in watching him, I had to see how uncomfortable he was (which made me feel uncomfortable) and since this is a TV show, he just doesn't have it. Demi said it best. He doesn't have the X factor.
No one else really did terribly. Even though Carlito Olivero is a mess on stage, I found his energetic performance of Rhythm Is Gonna Get You fine. Can you really do an outstanding performance of that song, or is it supposed to be a clusterf***?
Who are the front runners?
At this point, my girl Khaya is the best singer. Simon is propping up Restless Road as the best thing since Wonder bread. And Alex & Sierra to me, seem to be the best mix of solid vocals, excellent stage presence, and creative versions of the songs they're singing. Either that, or I just dig me some Sierra. She's the baddest girl in his history of this show.
I wasn't a fan of Josh Levi's version of Straight Up, but he's got a mini-Usher vibe going. Everyone's favorite grandmother, Lille McCloud took a step backward by doing Chaka Khan, but she's still really good. I still think Rachel Potter has her work cut out for her, no matter how well she's done so far.
Who goes home?
I think Tim is done. He's like Old Yeller after getting rabies. We just have to shoot him out of his misery.