Reach for the stars… and catch 'em on Star Search!
The 1980s and 90s era talent show Star Search used to come on every weekend. I would usually dutifully tune in and watch, even though it seemed like no one who won on the show ever went on to bigger and better things. It wasn't until years later that I realized there was a lot of legitimate talent on Star Search, even though it featured a lot of cheesy acts set to schmaltzy music. The singers, especially, were prone to big hair, dorky outfits, and way too many vocal histrionics.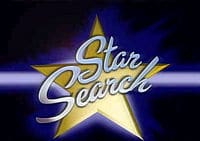 Yesterday, I was watching old episodes of Melrose Place and actor Brian Bloom had a guest starring role.  Brian Bloom is about my age and I remembered him when he was a teen, starring as Dustin Donovan on the now defunct daytime soap As The World Turns.  For some reason, I thought I'd first seen him on Star Search.  Allow me to explain for those who weren't around in the early 1980s.  Star Search was to my generation what American Idol, The Voice, and X Factor are to today's young people.  It was a long running talent show hosted by Ed McMahon.  I remember watching it when it first began in 1983 and remained a devoted fan for several years, until I went off to college and quit watching so much television.
I looked up Brian Bloom on IMDb.com and did not see Star Search listed as any of his credits, even though I could swear I saw him compete in the teen acting category back when the show first started.  The acting category was quickly done away with, which might explain why Brian Bloom is nowhere to be found in lists of former Star Search contestants.  On the other hand, it could be that my usually steel trap memory is failing now that I'm hitting middle age.  But my investigation did ultimately lead me to a list of all the people who competed or won on Star Search.  I couldn't help but notice that there are quite a few legitimate performers counted as Star Search alums; several of them are now huge stars.
Sam Harris
The very first big winner on Star Search was Sam Harris.  Harris was memorable because he wore a tuxedo with tails and high top sneakers.  He had a big voice that could do vocal gymnastics and that was apparently enough to impress the judges.
Sam Harris sings "Over the Rainbow" on Star Search.
He went on to score a contract with Motown Records and eventually cut a single called "Sugar Don't Bite".
Sam Harris singing "Sugar Don't Bite", a 1984 song that eventually climbed to #36 on the Billboard Hot 100 chart in 1984.
Sawyer Brown
While I wasn't able to find a clip of country band Sawyer Brown when they appeared on Star Search in 1983, I did find this clip of them talking to Dick Clark about their big break on Star Search.
Sawyer Brown talks about performing at Carnegie Hall after Star Search.
Here's a video for their 1993 hit "Thank God For You", complete with funky dancing.
LeAnn Rimes
Country star LeAnn Rimes made history in 1996 when she was just 14 years old. She was the youngest person to win a Grammy for Best New Artist and Best Female Country Vocal Performance on her song, "Blue" But in 1991, she was just another Star Search contestant.
Here she is at just eight and a half years old and already showing a lot of star quality.
And here she is many years later, covering the song "Swingin'", which was originally made famous by John Anderson in the early 1980s.
Britney Spears, Jessica Simpson, Christina Aguilera, and Justin Timberlake,
Moving on a few years, viewers started seeing some young performers who would eventually go on to become big stars. Britney Spears, Jessica Simpson, Christina Aguilera, and Justin Timberlake are today household names and they have been bona-fide stars since the late 1990s. But back in the early 90s, they were hopefuls on Star Search.
Here's little Britney Spears singing her heart out to The Judds' "Love Can Build A Bridge". She's come a long way since then.
And here's Britney all grown up and sexy, singing "Womanizer".
Christina Aguilera is just eight years old in this 1989 clip from Star Search.
Christina Aguilera all grown up!
In this clip, 11 year old Justin Timberlake is competing and losing against 10 year old Anna Nardona. I have to wonder if Justin cringes when this clip comes up, showing him trying to sing country style and sporting a big belt buckle.
And here's grown up Justin performing at the 2013 Grammy awards with fellow Star Search alum, Beyoncé.
Beyoncé
Yes, Beyoncé was also once a Star Search contender.
In this clip from 1993, she was 12 years old singing, dancing, and leading her backup singers and dancers, Girls Tyme.
That Star Search clip is a far cry from Beyoncé's performance in the video for "Single Ladies (Put A Ring On It)", isn't it?
Usher
Even Usher was on the Star Search starmaking machine.
In this clip, Usher hangs out with Countess Vaughn and Sinbad, also former Star Search contestants.
The younger they were, the more likely they were to be stars…
When I look at the list of notable Star Search winners, I notice that the ones who were most likely to become household names were junior contestants on the show. I also notice that a lot of times, the future big stars were losers on Star Search. I guess those Star Search judges didn't necessarily know star quality when they heard it. Or maybe the losers were just hungrier for success or had pushier stage parents. It's hard to tell.
I must have gotten my fill of talent shows back in the 1980s because I've never really watched American Idol, The Voice, or X Factor. In fact, watching these old clips from Star Search actually made me cringe a bit. I'm not so sure these types of shows really allow people to show off their talents to the fullest. I do like to watch America's Got Talent, mainly because audition week usually showcases bizarre or unintentionally funny acts that I find a lot more entertaining than the acts from people who legitimately want to become stars. On the other hand, looking at some of these stars when they were very young, I can't help but see that they were obviously very talented and probably didn't need Star Search.