Artist: Animal Collective
Album: Centipede Hz
Animal Collective's overall musical style has centered from the start on trebly, percussive yet wibbly-wobbly songs with a powerful hippie vibe. If I played Centipede Hz for fifty random newcomers, telling them sincerely that it's happy-sounding music, I'd expect a little argument about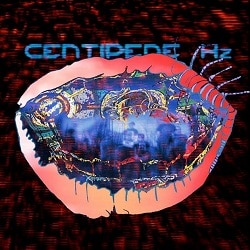 "happy-sounding" (there can be an anxious undertow, sure), but more argument about "music". They've been a critical favorite since their 2000 debut Spirit They've Gone, Spirit They've Vanished was adopted by the folks at Pitchfork, who called it "a masterful piece of electro-acoustic fairy-tale music [with] squalling electronics and vitrified rhythms". They referenced "space-pop", "free-noise", "insect electronics and demented piano", Piper at the Gates of Dawn, krautrock, and Lucy in the Sky with Diamonds in their review — all of which sound like plausible things to mention about the band to this day. The reviews stayed compelling enough for me to keep me trying out new Animal Collective albums even though my reaction to each didn't rise much above semi-intrigued bafflement; and compelling enough to the rock critic community that the band rose steadily up the year-end polls. Until, at the end of 2009, their Merriweather Post Pavilion easily won the grand Pazz & Jop Critics' Poll as the year's best album, and sold over 200,000 copies.
I liked Merriweather Post Pavilion. I'm not sure it would've made my Top 50 if I'd done one that year, but I liked it. It benefitted from some obvious changes. One was more expensive production: it remained a strange record (especially with so much going on at high pitches), but it felt more intentional, more polished and layered and harmonized. Another was that it was more relaxed, not quite as dense, and — by a good margin — more melodic. My Girls was the one that topped Song of the Year lists, with an intensely colorful video, a surprisingly square attitude (devoted to taking care of family), and a blissfully stoned, peaceful vibe that helped sell a tune as weird and unpredictable as anything the Dirty Projectors have written. Summertime Clothes is the one that went on my year-end mix-cd set, burbling over with energetic synthesizers that buoyed a limber, sunny tune worthy of the pre-rock glories of Frankie Lymon, or one of the girl-groups.
Centipede Hz is Animal Collective's follow-up to Merriweather Post Pavilion. Rather than finishing 1st in the Pazz & Jop roundup vote, it tied for 157th. It is, I think, clearly their masterpiece.
Wasn't that a good set-up paragraph? Unfortunately, and out of character, I don't feel up for making the sales job that goes here; they're such an odd band, an odd candidate for wide-scale acceptance. Thing is, I basically agree with the descriptions in the Centipede Hz reviews. Their most live, rock-band-feeling album? Sure. "Blunt-force", "sensory overload", "sing-song melodies out of a melee", "percussive clatter and synth-noise splatter", to quote Pitchfork? Yep. I think that misses how *joyous* Applesauce is; how Wide-Eyed invites a lab full of bubbling test tubes to dance; how tuggingly minor-key shiny/pretty Pulleys is; how classic-rock structure and dynamics make a sproingy off-kilter anthem of Amanita. But it's all true. "There is rarely time to draw a breath", complained the London Observer; if you can't breathe in the presence of three-plus distinct instrumental rhythms, this album will indeed kill you, which would be bad. I shouldn't snark at the Observer's reviewer, though: not only is her name "Kitty Empire", but her review adds the perfect phrase "galumphing sense of abandon".
I guess that's what it comes down to. All Animal Collective albums seem to owe debts to Barrett-era Pink Floyd, Brian Wilson's Smile, the wildest Beatles music, rhythm and vocal-weaving patterns from various parts of South America and Africa, modern electronica, and a galumphing sense of abandon. Their two most recent albums should be (and in my opinion are) their best: the ones they've been able to apply enough time, money, and experience to. Centipede Hz is the one of those you'd start with if you like changing time signatures, rock music drive, and many things going on at once. Me! Me! Me! I do! Apparently I'm outnumbered.
– Brian Block
To see the rest of our favorites, visit our Favorite Albums of 2012 page!