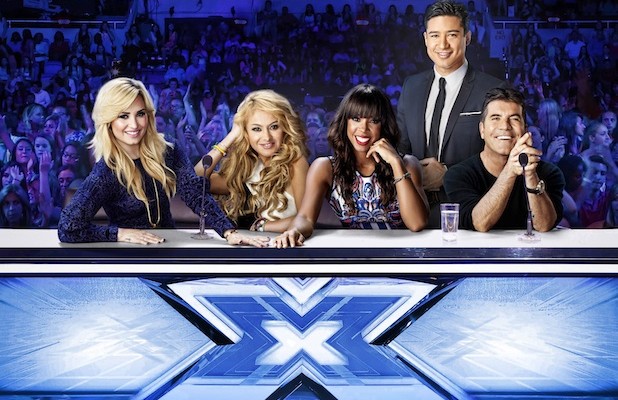 After last week, the top twelve was set. However, much like Simon used to do on American Idol, they kept a wild card. After being given the boot last week, Josh Levi came back to the show as the mentors thought he deserved another chance. Oh, how nice?
The theme of the night was Motown which meant Kelly Rowland was looking as much like Diana Ross as she could look.
It's unfortunate that instead of trying to replicate the fun Motown sound, many of the singers chose to slow the songs down so that they could show off their voices. What happened is that instead of a fun night of television, it was a pretty drab night on the X Factor.
Let's get to the X Factor USA recap:
Performances of the night
You mean other than Rachel Potter's legs?
I will say that Khaya Cohen is my favorite voice in the competition because she sounds so much like Amy Winehouse and that's a voice that we're missing in music today. She unnecessarily sultry-ed up My Girl, but it allowed her to show off the voice. It's hard to believe that she's just sixteen.
Lillie McCloud had to kill Motown night. And I think she did. I'm not sure how a 54-year old could not be outdated. Let's not try and make her young. What's special about her? She's a 54-year old hot grandmother out-singing everyone! She performed one of the better versions of Stevie Wonder's All In Love Is Fair you'll hear.
I'm a sucker for girl groups. Last year it was Fifth Harmony. This year, it's Sweet Suspense. They remind me of an American version of the Spice Girls, which is right up my girl group alley. They performed You Keep Me Hangin' On and it was fun, Fifth Harmony-y, and everything I want from a girl group. I hope they stick around for a long time.
Duds of the night
Carlos Guevara is very popular, partly because of his story and partly because of his crazy nice voice. It's smooth and more powerful than it should be. But he was amateur to the core. He had zero stage presence with his What's Going On performance, looked nervous and was out of his league. However, because of his popularity, there's no way he goes home anytime soon.
Tim Olstad is the weirdest contestant. He doesn't look like he's having any fun and he receives feedback in a very painful way. I'm wincing while the mentors are telling him what they think while he squints hard. Thankfully, Simon enjoyed his performance of I'll Be There, which was just okay.
Someone thought that Carlito Olivero should slow down Stop! In the Name of Love to a crawl. You mean, one of the most energetic and fun Motown songs ever? It was awful. There's a good chance that Carlito may be on his way home.
Who are the front runners?
I think it's fairly obvious that Restless Road is the main front runner right now, much like Emblem3 was last year. I find them a bit cheesy, but I get their appeal (definition: the girls love them).
Alex & Sierra are easy to enjoy. They're the only boyfriend/girlfriend couple in the competition and really, let's face facts, Sierra is cuter than all get out. I can also see this backfiring on them, but for now, I think they'll get major love from America.
Who goes home?
It's quite possible that Josh Levi may leave again, even though his rendition of Who's Lovin' You was at the very least, the middle of the pack. I think it's going to be between painful Tim Olstad and cheesy Carlito Olivero. The wild card here is Rachel Potter because it seems that the females hate her. But I do hope she sticks around for a while.
If I have to make a call, I'm going with Carlito.