This free musical app is pure magic!
Picture this.  It's morning.  You are sitting at your favorite coffee bar, sipping your favorite hot beverage.  You like this coffee bar because they always play cool music and offer free WiFi.  So many times, you've heard songs you've loved in this coffee bar.  So many times, you've left the place carrying a to-go cup, humming one of those cool songs you heard in there, wondering what the title was and who sings it. Sound familiar to you?  It does to me.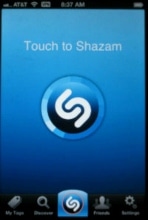 I remember several years ago when my husband and I lived near Fairfax, Virginia.  We were eating lunch in this great Tex Mex restaurant and they were playing blues.  I like blues, but am not as familiar with blues artists as I am other styles of music.  Suddenly, I heard this really cool blues version of "Folsom Prison Blues", a song made famous by Johnny Cash.  I liked it so much that I wanted it in my own music library.  At that time, I wasn't downloading music; I was still buying CDs.  We went to the local Border's and I started searching the blues section, starting with Keb 'Mo', the singer I thought it was.  We ended up leaving Border's with several new CDs, but none of them had that really cool blues version of "Folsom Prison Blues" on it.
That scenario would probably not be an issue for me today, thanks to a free smartphone app called Shazam.  I discovered Shazam on one of my favorite online communities.  It's available for a variety of different devices including iPhone, iPad, iTouch, Android, Windows Phone 7, and BlackBerry, just to name a few.  Once you download it to your device, your days of wondering who sang that cool song are mostly over.  With the touch of a button, Shazam will "listen" to the music on a television show, in a bar, or at a restaurant.  It will then identify the song and the artist, tag it, and give you the opportunity to purchase the song from iTunes.
I recently had the opportunity to play with Shazam quite a bit over a couple of very enjoyable hours at a pub in Edinburgh, Scotland.  My husband and I were there on vacation, enjoying lunch and a couple of pints.  The bar had free WiFi, which I had turned on.  Suddenly, I heard some very exciting British rock that I had not been exposed to before.  I turned on Shazam and pretty soon, I had identified several songs that I would download when I got back to the States!
Shazam is not foolproof.  You have to have either a WiFi or cellphone connection in order to use Shazam.  When we visited a pub in Glasgow, Scotland, I heard some awesome music I would have liked to identify, but I didn't have WiFi, so I couldn't.  Shazam can still "listen" to the music and try to identify it later when you have a connection.  And sometimes Shazam can't identify the music at all.  I have found that most popular songs are easily tagged, but sometimes Shazam does get stumped.  The free version of Shazam runs ads; you can avoid them by upgrading to Shazam Encore, which costs $6.99.  Shazam Encore also offers other features that are not available on the free version.
I have really enjoyed discovering new music with Shazam. It's the perfect app for music lovers who want to broaden their horizons!