Artist: Mike Keneally (with Andy Partridge)
Album: Wing Beat Fantastic
First, I got two careers to quickly summarize here. Mike Keneally — former "stunt guitarist" for Frank Zappa's touring band — comes across as a friendly, goofy man who simply happens, by dint of hours a day of practice, to be a jaw-droppingly brilliant guitarist. His playing has gotten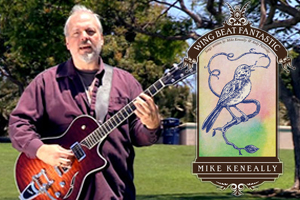 more understated and subtle over his solo career. This matches the trend in his songwriting, which has developed steadily more pop/jazz sophistication (which to some extent is a shame; his Potato and Live in Japan, from 1998 and 2000 when his albums were by "Mike Keneally and Beer for Dolphins", are two of the most gloriously catchy hair-metal songs I've ever heard).
Andy Partridge was the primary singer, songwriter, and arranger for XTC, a band I sometimes think of as what the Beatles would have become if they'd started out in 1978, forced to react — not only to punk and New Wave and Peter Gabriel's musicology tours — but to the awesome challenge of being a pop band trying to out-innovate the Beatles. Partridge has claimed, plausibly (judging by their first couple of albums), that the origin of XTC's distinct melodic style was an accident: that he and Colin Moulding simply learned the "wrong" set of three basic chords. Be this as it may, they developed this non-standard base into increasingly lavish tunes that, however unorthodox, nonetheless inspired genuine hit songs: Senses Working Overtime, Dead God, Mayor of Simpleton, the Ballad of Peter Pumpkinhead. Then they vanished in 1993, on strike against their label; returned with two indie albums in 1999/2000; and vanished again.
Until now, with Mike Keneally's Wing Beat Fantastic, where the cover and Amazon listing both announce "Songs written by Mike Keneally & Andy Partridge". I hadn't noticed that Keneally's and Partridge's melodic styles were converging, but the resulting album feels natural for both of them, part Keneally's acoustic Wooden Smoke (with its emphasis on elaborate vocal arrangements and headphone-listening sonic detail), part XTC's fussily orchestrated Nonsuch. Or to bring in outside comparisons: I'm Raining Here, Inside is a fluid single fusing Billy Joel's rock strut with the lovely elusiveness of Radiohead's In Rainbows. Wing Beat Fantastic is like half-a-dozen late-Beatles stripped-down ballads transposed and stitched together into one complex creation. You Kill Me blends several styles of guitar-driven classic rock — some Thin Lizzy, some Who, some Yes, some Dire Straits, some Sesame Street — not all in 4/4 time.
The guitar — except on You Kill Me — is de-emphasized. The quiet That's Why I Have No Name is build on ghostly voices, low rumbling piano, and oscillating synthesizer. Your House is mostly a piano ballad, qualified to be covered by lounge singers for the next century. Miracle Woman and Man has one strikingly agile and expressive acoustic guitar solo at the end, but otherwise its forceful strums are notable mainly for the unusual chord progressions and halting-then-fluid-then-halting rhythms, and there's a Chick Corea-like jazz fusion keyboard solo. Bobeau's really acrobatic feature is Keneally's singing.
The lyrics are very good, and while I make no attributions — Keneally's a very good lyricist — the co-written words feel more Andy Partridge to me.
* Some are happily romantic: "Wing beat fantastic: I want you in my backyard, tucking twigs and twine. Rising here and diving there, we'll vanish, make 'em wonder where. Both evading cast and snare, we'll emigrate to regions rare".
* Some are self-conscious: "What if you should see me here? I'd whirl blue and disappear".
* Some are lonely, emotions protected only by the search for the perfect metaphor: "My blue umbrella is no use: I'm raining here inside. Salt water flowing endlessly, just adding to the tide. Since you've gone, no light has shone; I'm drowning in my pride".
* Some are socially aware and indignant: "You kill me, with your cheap AK and your 'Let us spray'. You kill me, with your oily games and your gift of flames. You kill me, with your 'Praise the Lord!' and your waterboard… I don't mean to vote for you, but your machine will fix it so I do".
It adds up to a writing style I've recognized and largely admired for half my life. In whatever format, and with whatever help, I'm happy to have it back.
– Brian Block
To see the rest of our favorites, visit our Favorite Albums of 2012 page!