Artist: the Scaramanga Six
Album: Phantom Head
Phantom Head, by the British band Scaramanga Six (who currently are in fact a sextet), is an energetic album of sinister-for-the-fun-of-it bar-band rock. It reminds me of the leaner-poppier side of '70s Blue Oyster Cult (the Career of Evil/ Harvester of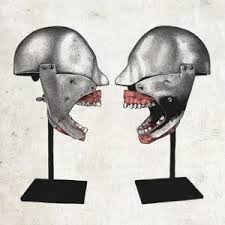 Eyes/ Debbie Denise side), or of Thin Lizzy's twin-guitar rock if they'd sung from the perspectives of dangerous psychopaths-in-training. Or of the Who if they'd been Judas Priest fans, but wanted to make sure everyone was in on the joke. For a current comparison, imagine a lighter-on-their-feet Queens of the Stone Age, more likely to play a tango (They Put You on a Pedestal) than slide near heavy metal.
My impression from reading about them is that Scaramanga Six used to be weirder, associates of the happily ridiculous progressive-punk-New Wave band the Cardiacs. Steve Albini's production seems to straighten them out here, although you can still hear little touches like the extended 7/4-time bridge of I am the Rain; the sudden 7-beat measure twice inserted near the end of Blunt Force Trauma; We are the Blind's snaky 6/4, aggressive weird guitar solo, and grand piano breakdown; or the rare occasions Steven and Paul Morricone break out their saxophones. I should check their earlier work out; I bet I'll like it. But Phantom Head is a record for jumping up and down to, and its dedication to groove is its essence.
The lead vocalist — Steven Morricone, I believe — is a very good singer. His voice is strong, smooth, flexible, and good at crooning unlikely dark melodies; he can also suddenly shout, or intone through a megaphone, without losing elegance. Paul Morricone and Julia Arnaz are versatile guitarists, able to play anything from the '70s anthemics of the Bristol Butcher to the Pixies rock'n'roll of Twist the Knife to the percussive blare of the Cardinal to the restrained slow build of the organ-heavy It's Just a Matter of Time. (Their role in the dark almost-disco precision of the Spider is minor next to that of the rhythm section.) Phantom Head is not a deep record, and if I took it at all seriously I'd be appalled by the consistently pro-murder lyrics (not to mention the customer-service instructions that open the bell-tolling We are the Blind). What's actually obvious is that Scaramanga Six want me to rock out and have a good time, minor key and all. I like them because I have the same goals quite often.
– Brian Block
To see the rest of our favorites, visit our Favorite Albums of 2013 page!