Artist: Lost World Band
Album: Solar Power
Lost World Band are currently a Russian quartet of drums, flute, "keyboards/sound/production", and one man — Andy Didorenko — on violins, guitars, bass, and sometimes vocals. Solar Power is their fourth album and, of the ones I've heard,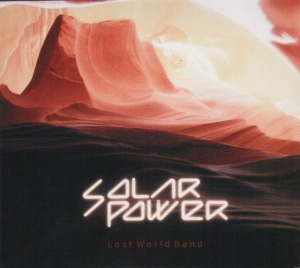 clearly their most forthright and catchy. It is also weirdly bifurcated. The majority of the tracks, the instrumentals, are fiery rock tracks. They have the fast agile interplay of good jazz, sure; with an instrumentation more suggestive of chamber music, yes. Their sense of drama and structure is often cinematic; and when Didorenko's violin really gets going (which is often — he's spectacular) they have a folk-dance energy. But the firm emphatic hooks, the (literal) (also figurative) electricity, the strong thumping drums once everything kicks in: these are songs to be played on stages of arenas. I have a pretty strong bias in favor of vocals: I focus naturally on a good voice, and my favorite albums tend to be ones where the lyrics make me think or laugh or cheer. Solar Power defeats that prejudice for me: its instrumentals are easily the backbone of a top-ten album for me, which almost never happens. If you know Joe Satriani's guitar albums, and imagine him in like-minded teamwork with a violinist and flautist and bassist every bit as center-stage-worthy as he is, you've got a good mental image to work from right there.
Then there are the vocal tracks, which — don't get me wrong — are pleasant. Didorenko sings in English with a thick but dreamy Russian accent, his slightly smoky tenor gliding gently among the notes. Background vocals are soft floating accompaniment or evocative echo. The guitar work glistens; the synthesizer shimmers; the violin holds long, elegant, moody notes, or it plays legato tunes, worthy of any symphony orchestra. The drums tap, or pulse patiently like old clocks. At best (Metamorphoses) they push forward on a bit of churning violin here, some quick folky strums of guitar there, a bit of funky bass later and some fast vibraphone-like keyboard after that, leaving even their freefalls with momentum as well as gorgeous-ness. At worst (Facing the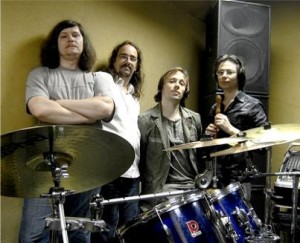 Rain or Your Name) they're still pretty and still a valid change of tempo, guilty of nothing worse than not being the sort of thing I tend to listen to on purpose. Nothing gets most of its force as a successful power ballad just from the urgent rhythms of Didorenko's soft singing, and a little extra from marching drums and, maybe, some bagpipe?
Solar Power is imaginatively detailed every time the energy kicks up: the keyboards and sound treatments of Tongues of Flame I, the funky drive of Solar Power, the way Run That By Me Again turns hoedown fiddle and jazz bass into a fierce punk rave-up. The only charge I can make against it is Lost Word Band don't make the song I *want* them to: one where Didorenko's words and singing are carried along by a powerful, hard-charging, stadium-ready, violin-led band. Russia isn't isolated from the modern world anymore, now that it's run by capitalist mafiosos and swindlers instead of communist inspectors and paper-shufflers: Lost World Band know that multi-tracking exists, and have Didorenko teaming up with Didorenko and Didorenko on most of their songs at some point. They haven't, I guess, worked out how to make his fieriest and most peaceful sides work together artistically.
It's not even necessary that they do so: Solar Power ebbs and flows with masterful pacing. I recommend it strongly. But I'm petty, and prone to preferring faster-faster-faster to "masterful pacing", so I'm holding back my highest raves until I hear them make a proper try at putting every virtue together at once.
– Brian Block
To see the rest of our favorites, visit our Favorite Albums of 2013 page!