Artist: Los Campesinos!
Album: No Blues
Los Campesinos!, unlike the majority of the bands I review here, are well-known to, and well-loved by, rock critics and the music blogging community. They sell pretty well too, at least in their native U.K. This makes sense. While a certain percentage of the music I like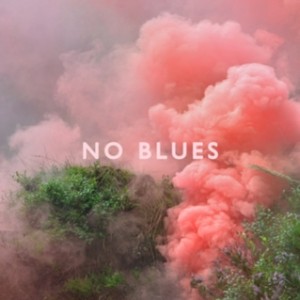 is outright weird and difficult, I think most of it is blocked from mass popularity by a couple of simple differences between my taste and mass taste. One: most people prefer pop songs about love and lust and loss and romantic confusion, while I keep falling for songs about the childhood neuroses of Alexander the Great; or the psychology and economics of working low-wage crap jobs; or D.I.Y. science experiments investigating the nature of light; or how many puns the songwriter can make regarding an imagined sexual fetish centered on minerals. Two: these days pop music — the share of it that isn't about robotically pitch-corrected dance tunes — rewards a singing style of untutored enthusiasm, while I often prefer Broadway standards of vocal training and/or comic timing. Los Campesinos!, and the gloriously romantic racket they make, are firmly on the side of the public in both cases.
No Blues — their sixth-ish album from 2007 to the present, and their most varied and mature, which shouldn't be nearly mature enough to worry anyone — starts with softly ringing synthesizer and Gareth Campesinos's twee-yet-vigorous alto singing its chorus: "Knees knocking and blood flowing, so/ I want you to know that I want to". The full (and lovely) seven-piece sound kicks in almost at once: monotone synth in a "choir" keypad setting, percussive piano, thick guitar sounds, regularly pulsing slow drumrolls. That chorus could be a mass hit; so could the verses' theme, a longing for a female friend to be his girlfriend. "She says 'If you're unhappy, then you've gotta find the cure'./ Well, I prescribe me one more beer. Beyond that I am unsure./ May not be be-all and end-all; in my defense, she is the whole./ I've thrown my goalkeeper forward; she's catenaccio". Catenaccio is a defense-first soccer formation; great metaphor, at least for listeners like me who look up words on Wikipedia. I love the way the register shifts between populism — "As I saw God in the bathroom, I baptized him in sick" — and prep school vocab — "embraced him in the cistern and said 'C'est la mort! Enough of this'".
I love too how even though his relationship wishes are not met, his friend can speak in terms reminiscent of You and Me Against the World or NIN's We're in This Together. "Later she said something that stuck hard in my mind: 'We are their Capel Celyn, they've got to keep their slippers dry'". Capel Celyn was a village flooded to make a dam for Liverpool factories; this song (For Flotsam) is gorgeous *and* hyper-enthusiastic *and* poetically inspired *and* teaches me random facts that Gareth thinks I should know. I'm a sucker for it, and I'm delighted to be nowhere near alone in this.
As for my opinions about the rest of the album, the upside is that I think there's at least two other songs just as great (What Death Leaves Behind and Avocado, Baby), and every song here has, at least, pretty music with a few good lines. Downside: while I'm happy with the introduction of variety to Los Campesinos!'s sound — in the past, they've sorely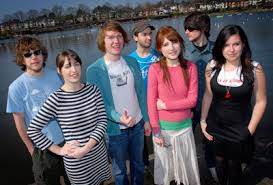 tested my limits on how much clattering maximalism I need at once — the variety mostly consists of some of the songs being slower. All the Campesinos play at almost all times: the a-capella group chant "Ex-boyfriend, give us a song" on the bridge of Glue Me is startling. And while they've refined their abilities over the years, they have yet to show an interest in toying with other styles. The synth player loves long-held droney notes, the drummer loves vigorous deep-sounding drumrolls, the guitarists love a midpoint between fast '80s jangle-pop and thick mid-90s shoegaze, and that's what they do.
Similar story with the words: Gareth writes about his few favorite themes. Death, and the fear of death, are the big ones I haven't mentioned yet: "I was the first match struck at the first cremation./ You are my shallow grave, I'll tend you as a sexton./ If you're the casket door that's being slammed upon me,/ I'll be a plague cross painted on your naked body/… Why must I lie awake, from dusk until the morning/ through fear of being impaled upon an errant mattress spring?" Perhaps the perfect constellation of his concerns comes at the end of the 4th song, using a word for "empty grave marking an unrecovered dead body" that I'd earlier learned from a This Heat song: "I shimmy up the cenotaph, regale with my melancholy./ Two words on my headstone, please, don't need name or date, just 'Sad Story'. They boast of poets on their side, but what use will they be if this comes to a fight?/ I glance along the length of pew and all that I can think's I want to undress you." Fear of death, sadness, poetry, religion, sex, longing, and oh yeah, the Smiths: the song is called Cemetery Gaits. No Blues deserves to be someone's favorite album.
Not mine, no. I'm not much of a romantic; I'm too literal to be a poet; I deal with death by emotional avoidance (and doing my mom's shopping, and playing Scrabble with her, while she's still hanging in there). But I recognize great writing. The music doesn't sound like anyone else, either, especially not with Gareth's voice pushing things along. It sounds really good. I hope Gareth gets past some of his depression. It shouldn't kill his muse; it should just free him to write about soccer more directly.
– Brian Block
To see the rest of our favorites, visit our Favorite Albums of 2013 page!