Artist: Kate Miller-Heidke
Album: Nightflight
Kate Miller-Heidke entered my life with her second album, Curiouser, one of my two favorite albums of 2010. Witty and tuneful, danceable and good-natured, sung both prettily and expressively by a woman unafraid to make brief, surprising use of her opera training, it was for me the greatest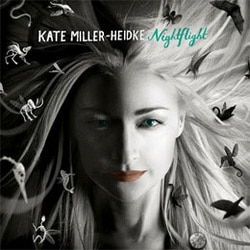 album of mainstream chart-pop since … well, ever. The Beatles' best albums were mainstream only because the mainstream ran to catch up with them; Curiouser was in a category with early Madonna, Cyndi Lauper, Kylie Minogue, or Lady Gaga, except far more personal and more musical. Also smarter, but not in an intellectual or intimidating way. Miller-Heidke simply proved smart enough to story-tell a heartbreaking apology to a boy she'd once been mean to (Caught in a Crowd); completely take down a pickup artist (God's Gift to Women); tell a gossipy friend to step off (I Like You Better When You're Not Around); write a catchy dance song about her awkward self-consciousness while dancing (Can't Shake It); find disheveled glee in a despairing protest song about apathy (Politics in Space); and relate novel post-relationship stresses in the age of Facebook (Are You Fucking Kidding Me?). Curiouser peaked at #2 on the album chart in her native Australia, and included a #1 single (the slow, yearning Last Day on Earth).
She's released two albums since, each of which changed direction a bit. Liberty Bell (2011, known in Australia by the better title Fatty Gets a Stylist) went heavy on the synthetic dance-pop; I found it disappointing, though my young sons adore it and have helped bring me 'round. Nightflight is altered in a different way: like Robyn Hitchcock's gorgeous but surprising Perspex Island, it's not witty or clever, nor does it aim to be. It's a lovely mainstream pop record, but earnest, and the people it most sounds like to me could have been stars but weren't: Sinead Lohan and Heather Nova (part of the "Wait, is this pop or does this go on 120 Minutes?" confusion of the mid-90s), Brooke Fraser and Katie Herzig (Christian Contemporary singers of the present day). Much as I like those four, though, I prefer Nightflight to any of their records. Quite a few Australians seem to agree.
When I review mainstream pop, it can be hard to explain what makes it special. I can point to little details of construction, sure. Piano-based anthem Ride This Feeling's chorus is delayed, building anticipation, by a dramatic pre-chorus dialogue between hair-metal power chords and near a-capella singing. The verse melody on the ominous Sarah builds towards the chorus but then slows and spirals inwards, again changing the chorus's impact; the arrangement makes good use of sawing strings, timpani, bell-like piano, and background opera notes. Nightflight is a piano ballad in 4/4, but its best parts integrate the rolling propulsion of 3/4 by emphasizing the first, fourth, and seventh of every eight beats (the bridge), or actually combining the time signatures (the chorus). On the bridge of the Tiger Inside Will Eat the Child, Miller-Heidke's wordless voice pipes like a pennywhistle. I'll Change Your Mind isn't far from Taylor Swift's Red, but has another good chorus-delaying tactic: some thinking-aloud lyrics to a repeating chord that refuses to resolve. Beautiful Darling is a Joshua Tree-alike, and those tremolo-and-delay-pedaled guitars and sharp echoed drums don't need to be new details to be really good ones. (The lovely faux-aboriginal vocal hook is more like Enigma.) The acoustic guitar on the Devil Wears a Suit, minor-key Irish folk, unsettles by putting the beat before or behind where you expect.
I can point to lyrics, too. Sarah is a well-told story of a friend disappearing at a Ben Folds concert they attended together. Nightflight is about a life built on long-distance travel: "Oh ladies and gentlemen, keep your luggage with you at all times/ I'm 35 hours and three bad movies away/ and if one more person coughs on me, I'm gonna punch them in the face/ Well not really, I'll just hold my breath as always". I'll Change Your Mind is an account of one-way love: "You're no stranger to 3 a.m./ You call me just because you can/ Cuz you know I'll come/ Cuz you know I'm helpless…. I know you're using me for comfort and for company/ I'm using you too, to feed my fantasy". In the Dark mourns a father by sitting in the now-unneeded car he taught her to drive in. Fire and Iron's account of old love has vivid details like "You tried to impress me by rolling a smoke/ Your hands were shaking and the paper broke/ I played it cool and I took a drag/ Coughed like the kid on the Panadol ad". But sometimes the most ordinary details hit me, like the little apology in "I woke up this morning, made a pot of coffee/ went out onto the stairs to sit in the sun/ I haven't been myself, I know I haven't been much fun/ But I woke up this morning, and the air felt different".
Ultimately, I'm not sure how much of my reaction is down to those details. There is one truly unusual-sounding highlight here, the desolate Humiliation (cello, tugging/ echoing vocals, In the Air Tonight-style drums, little synth buzzes and Pink Floyd whirs, bits of opera, and the glistening guitar-or-is-it-harp riff that holds it all together). Otherwise, most of these songs have choruses that, sonically, any leading song-factory writer (Linda Perry, Max Martin, Bruno Mars) might've written for any given starlet or girl group or boy band. Except … now and then those folks write *really good* choruses. Here's an album with at least half-a-dozen of those, plus two or three more in the folkie mode, and the restraint not to bludgeon them into your head with repetition. They also have abnormally excellent singing. Plus lyrics with a likable individual's thoughts behind them, and I'm told she's still hilarious in concert. But maybe I'm just pretending the choruses wouldn't be enough.
– Brian Block
To see the rest of our favorites, visit our Favorite Albums of 2012 page!