Artist: Kacey Musgraves
Album: Same Trailer, Different Park
Kacey Musgraves's debut Same Trailer, Different Park is my favorite country music album in a decade or so. Its status at #29 on this list qualifies that enthusiasm, I realize, but it's real enthusiasm: she's a talented songwriter who sings with a forceful, flexible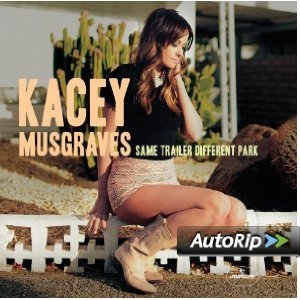 alto drawl. Same Trailer is at least my favorite country record since Son Volt's Okemah and the Melody of Riot (2005), if that isn't too loud and blaring to count as country; it certainly pales behind Wilco's stunning 2002 Yankee Hotel Foxtrot, but when I cited YHF on Facebook as my favorite country album ever, I was quickly and repeatedly informed that it isn't country music, no matter the obvious underlying nature of Kamera or Jesus, Etc or Poor Places, because the arrangements are so weird. Which means the last country album I liked more than this was Amy Rigby's the Sugar Tree, all the way back in 2000, and that's a far better comparison anyway.
That exclusiveness of country music's definitions — the quick exile beyond its borders for deviation, the resulting predictable melodies and chords and guitar/ drums/ bass/ sometimes-harmonica arrangements — is why it's a small part of my diet. But it remains, at its best, an accessible and melodic home for good writers to sing what they want to say. Same Trailer, Different Park uses the same middle-of-the-road structures as other fine writers like Rigby or Mary Chapin Carpenter or Loretta Lynn or, in his more modest-scaled songs, Brad Paisley. (As opposed to the hair-metal-inflected work of Shania Twain; the loud, ultra-compressed production of Miranda Lambert; or the gloomy sparseness of Gillian Welch and of Son Volt albums like Straightaways.) I won't say much about the song-to-song musical variation: the raw blues-rock energy of Blowin' Smoke is a nice treat, the jug-band sing-song cadence of Stupid is fun, Silver Lining has *way* too much steel guitar for my tastes, the banjo on Merry Go 'Round reminds me of Kermit the Frog in his swamp at the start of the Muppet Movie. Whatever; the songs are built on tropes. Kacey Musgraves uses them with subversive intent, and that's what hooks me.
Merry Go 'Round, the song where I first heard her, strikes me as the kind of song that could change a girl's life. Musgraves was born and raised in Golden, Texas — the kind of small town where country music is just what the radio exists to play — and she takes dead aim at her native culture. "If you ain't got two kids by 21, you're probably gonna die alone/ At least that's what tradition told you", she starts, returning to the theme with "Mary, Mary, quite contrary, we get bored so we get married…/ We think the first time's good enough, so we hold on to high school love/ saying we won't end up like our parents". I'm from Iowa. I was a city kid myself, but Continuous Country Classics was on the radio at my first job, and small town manners were just a few miles away, where a lot of my friends and friendly acquaintances ended up; she's just described how quite a few of them ended up after high school. On Facebook I've watched them struggle towards second marriages and self-forgiveness for the rot of the first ones; maybe they needed some catchy warnings in their own language. "Mama's hooked on Mary Kay/ Brother's hooked on mary jane/ Daddy's hooked on Mary two doors down", Kacey choruses: an exceptionally economic bit of writing, capturing a family dynamic in 17 easy-to-memorize words and scribbling STAY AWAY in the margins.
Follow Your Arrow is Merry Go 'Round's optimistic flipside: an anthem, in its midtempo singalong (and whistle-during-the-bridge) way. In minor key it describes the same kind of socially mandated awfulness — "If you save yourself for marriage, you're a bore/ If you don't save yourself for marriage, you're a whorr/ -ible person./ If you won't have a drink, then you're a prude/ But they'll call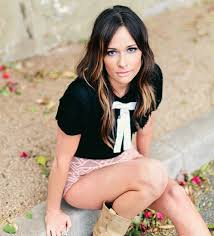 you a drunk as soon as you/ down the first one". But it transitions through "You're damned if you and you're damned if you don't" into "So you might as well do whatever you want". Most of *my* friends see the logic of telling a girl "Make lots of noise/ kiss lots of boys/ or kiss lots of girls if that's something you're into". I'm in North Carolina now, and when an amendment to the state Constitution was proposed in 2012 that forbade recognizing same-sex marriages — or even same-sex civil unions — my downtown neighborhood was filled with "Vote No" signs. But it passed was 61% of the vote, and I think the "Yes" votes, by county, were *strongly* correlated with country music dominance. Follow Your Arrow, as a country song, tries to address listeners who get the opposite messages on a day-to-day basis. The chorus also cheerfully adds "Smoke a joint/ or don't" — since personally I never will, I appreciate the nod. But the second iteration as "Smoke a joint/ I would" is even jollier, and not even slightly pressuring.
The rest of Same Trailer, Different Park is nowhere near as remarkable — e.g., there's a song called I Miss You about missing an old lover — but it's a nicely done genre work. Blowin' Smoke, which I gather must see some important moral distinction between joints and cigarettes, is a cynical song about adulthood: "We all say we'll quit someday/ When our ship comes in, we'll just sail away…/ I'm just flicking ash into the tray/ telling 'em both it will be okay". My House is a love song of mobile-home pride: "If I can't bring you to my house, I'll bring my house to you". Step Off viciously attacks a town gossip, its moral distinction being that you should say your mean things directly to your target's face: "Don't wreck my reputation/ Let me wreck my own". And indeed, Stupid goes after herself, and her penchant for being attracted to the wrong guys, while It Is What It Is is fatalistic about the end of a relationship.
All are cleverly written. All are, as you may have noticed, built on cliches; she often twists them artfully, her words like her music relying on little twists to the familiar ("You wear your heart on a ripped unraveled sleeve") to make them stick better to your brain. It's a sensible strategy, at least until she runs out of cliches, which may take a while. Maybe she'll devote herself to wreaking ideological havoc in small towns everywhere; maybe she'll decide the wages are better in urban hipster venues where her messages are comfortable. Maybe My House will become her template and Follow Your Arrow will drop off her map. But as long as "havoc" is an option in play, I expect to remain one of Kacey Musgraves's fans.
– Brian Block
To see the rest of our favorites, visit our Favorite Albums of 2013 page!