I grew up in the 80s, so it naturally follows that I should be well acquainted with the "forgotten oldies" of Culture Club, A Flock of Seagulls, and Asia. But the music of the 50s and 60s loomed large as well, what with movies like Stand By Me, TV shows like The Wonder Years, and those super-awesome commercials for Freedom Rock .
My parents had a pretty big record collection which I felt free to plunder (and in many cases – I'm looking at you Platters records! – inadvertently destroy). But also, on the radio, you could find, tucked between the various Top 40 and Classic Rock stations that most of my friends and I listened to, not just one but several oldies stations, many of which featured DJs that spun the hits of the 50s and 60s during their first run up the charts – guys like Radio Hall of Famer Dick Biondi, who recently celebrated the 50th anniversary of his first broadcast on Chicago's WLS, and who is generally regarded as the first American DJ to play the Beatles. It was listening to Biondi and his ilk on commutes to and from Kenosha, and while working in a pizza kitchen when I was in high school, that I got a pretty awesome education in the music that my parents and their friends, not to mention the music that my own 80s idols – Cyndi Lauper is the same age as my mom! – grew up loving.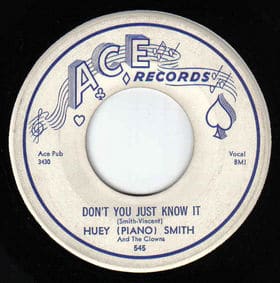 Sure, there are still oldies stations on the radio, but the very same oldies stations that were playing not just The Beatles and the Stones, but also the hits of second and third and fourth tier artists like The Association, Gary Lewis and the Playboys, and The Vogues, are now playing only the most familiar hits by the most familiar artists of the 60s, while their playlists are increasingly trending towards the 70s and 80s. Not that I have anything against oldies stations playing the songs from my own childhood (I get it – I'm bald, I'm fat, I'm middle-aged), and a good Huey Lewis song like "Do You Believe In Love" sounds right at home sandwiched between the Supremes and the Grass Roots. But I worry about how easily we're leaving behind a lot of those great, lesser known songs while programmers try to keep the Oldies format "current".
With that concern in mind, I'm launching a new series here called Jukebox Classics. So called for two reasons. One is anecdotal: the other night, we were out at a local 50s themed diner with a friend of ours. Each of the tables had its own little 50s-looking CD jukebox stocked exclusively with 50s and 60s music compilations. For a quarter, you could play a couple songs. I was flipping through the selections and at one point, my friend slipped me a couple of quarters and said: "Go on, Paul, you know you want to." He was right.
I also have a strange fascination with all these YouTube videos of people playing their vintage 45s (or in this case, a vintage 78). One of my jukebox selections at the diner was this 1958 tune by Huey "Piano" Smith called "Don't You Just Know It". The song was a repertory staple of early 60s garage and frathouse bands, and the first version I ever heard of it was a 1963 cover by Paul Revere and the Raiders via a two disc compilation of that band Columbia/Legacy put out in the early 90s.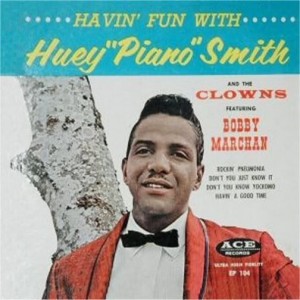 Not unlike "Louie Louie", part of the fun of "Don't You Just Know It" is that it is, at least by the definition prevalent in the 50s, the "devil's music". Aside from the non-sensical call-and-response in the chorus (a-gooba-gooba-gooba-goobah!), you can't really understand much of what's being sung, and if you could, you'd find the words coded with all sorts of possibly-maybe(-probably), sexually suggestive double entendre. Oh, and that falsetto voice you hear? That's blues singer Bobby Marchan, who was also a female impersonator. So basically what we're talking about is Jimmy Swaggart's worst nightmare. And it's hilarious. You can't not want to dance when you hear it. You can't not laugh (or at least smile really big) while listening to it. Laughter is literally built into the song. Even more than Smith's other big hit "Rockin' Pneumonia and the Boogie Woogie Flu" (which topped out at #52 in 1957, but went top 10 fifteen years later via a cover by Johnny Rivers), "Don't You Just Know It" delivers a drug-like high with drug-like immediacy.
As was the case with many black performers in the early rock 'n' roll era, great efforts were made to squelch Smith's fame, even by his own record label – which, at least theoretically, stood to make a lot of money on Smith's continued success after "Don't You Just Know It" hit the top 10 on the pop charts. Ace Records essentially wiped Smith's vocals from a follow-up single called "Sea Cruise", had his white label-mate Frankie Ford sing over the Smith-produced backing tracks, and saw the song become a Top 20 pop hit.
And if you want to see the song in action: Here's a performance by 50s revivalists and (incongruously) Woodstock alumni Sha Na Na from their 70s TV variety show. Bowzer, the tragicomic bass "greaser" from the group, went on to be a VJ on VH-1 in the 80s.