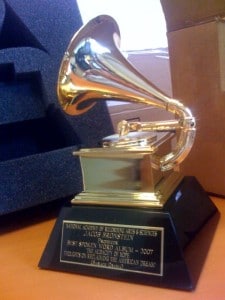 Beyonce opens the show with gyrations on and around a chair with strobes, fog,  and lights highlighting her body dressed in fishnets and sheer stuff.  Bleeped a few days, Mr. Beyonce shows in a tux and duets with her.  Blake Shelton looks slightly traumatized.
LL Cool J gets to reprise his hosting duties as the most inoffensive host the show has seen since John Denver.  Poor James had to remind the audience he sings too.  Then he offers CBS' obligatory shout outs to Kendrick, Daft Pump, Pink, Taylor Swift and a little something for everyone to stay tuned in.  Even Paul and Ringo were shown sitting side-by-side.
Annak Kendrick and Pharrell show this year's presentation speeches are again horrible.  The Grammy Kiss of Death should go to Kendrick Lamar.  I'm 1 for 1 tonight because the novelty-like Macklemore and Ryan Lewis show they're going to smack down Kendrick in each head-to-head competition
Lorde gets to sing Royals, the first of the five nominees lined up by this year's producers.It's less impressive stripped down.
Three seconds manage to pass between another reminder of tonight's performances before Target's sponsorship gives way to Shakira mouthing the word to her new singles. Our sister sites will critique commercials next week during what LL Cool J just called The Big Game for copyright reasons so no more tonight.
Hunter Hayes' hair plays his new track Invisible.  I approve of the message since LL told us all to listen to all of the lyrics.  That is two straight Grammy performances for young Mr. Hayes, who is well on his way to a fine pop-country career.  The power ballad is formulaic without the obvious hooks.
Juanes and Anna Farris would make beautiful babies.  Instead they give the Best Pop Duo Group/Performance award. The competition is tough. The Grammy should go to Daft Punk… and it does!   The Power Rangers ascend the stage with Pharrell and Nile Rogers as Pharrell adlibs the acceptance and is the second award winner in a row to get played off the stage.
Steve Coogan gets a cute line off on Juicy J and intros Katy Perry as the two hit a well-staged version of Dark Horse.  Broadway is calling Ms. Katy. You would have preferred another version of Roar?
Not risking a twerking episode on this track, Robin Thicke jailbreaks Chicago from the assisted living home and sings with a well-dressed insurance agent who may have been a friend of Alan Thicke's.   Chicago Transit Authority, the seminal album produced by Phil Ramone (obligatory applause after his passing).  Robin isn't a bad choice as he works well with Robert Lamm and covers for the missing Cetera vocals.
They give way to Keith Urban, who really is a guitar gunslinger, but instead lets his smooth chest and swaying hips carry his performance with Gary Clark, Jr.   Keith nails a power chord or two, but I don't see his left hand move past the fifth fret for at least two minutes, and then he played a little with Gary Clark, who showed Keith what the blues sound like when they're melodic.  Best part of the night is when Urban playfully punched Gary much like The Hulk punched Thor during The Avengers.
Now we're backstaging with Taylor Swift and looking at a silly TwitPic stand.  Yawn.  Has the Super Bowl pre-game started yet? As 9 o'clock tolls, both televised Grammys are completely boring although better than the commercial-week version of Higher and Higher is even more bland than Rita Coolidge's version.  Two plus hours to go?  Really?
We break right out of commercial to John Legend, whose streak of awesome live performances continues.  His voice travels from baritone to falsetto, sustaining notes, all solo with 88 keys.  The musician-laden lower audience agrees and stands to applaud.
Charlie Wilson and Kevin Hart, who is smiling since he has two weeks running with the number one movie smiling, present Best Rock Song.   The dinosaurs (Maccca, the Stone, Ozzy) vs Muse vs Gary Clark seemed unfair competition. No one played off Dave Grohl or Sir Paul as they wander off with Sirvana's award.
The immediate transition to Taylor Swift at a piano doesn't feel right unless we've joined American Idol already in progress.
Bruno Mars intros Pink & Nate Ruess.  Pink is doing her acrobatics again, which is awesome.  Singing as she does as she sways on ropes over the crowd takes multi-tasking to an extreme when 10 million people are watching.  And the harmony she has with Ruess is perfectly reproduced live. Pink rocks.
Arianna Grande and Miguel are on stage to give Lorde the Best Pop Performance Award for Royals.  Yes, she beat out Bruno Mars, Justin Timberlake to mention just two of the artists who should have won.  To her credit, she gives perhaps the best speech of the night.
Ozzy shows up to present an award.  Close-captioning?  Check.  They intro Ringo.   He's got Peter Frampton on guitar and other Ringo All-Star band members plus others showing respect.  You know who isn't there?  Paul McCartney.  Ringo is wearing a sparkly mock black suit with red polka dots or sniper laser sights.   Respect to Ringo, but the hyped "reunion" isn't on tonight's show.
Jamie Foxx tells people to give it up for Ringo.  Then he does five bad jokes and gives the expected Grammy to Hova and JT for Holy Grail.   Angelina Jolie and Malificcent are longer than any performance in a paid spot for the upcoming movie.
Back from commercial, LL Cool J gives some love to the 30th anniversary of Def Jam.
Imagine Dragons won an untelevised Grammy, which is nice and are joined by Kendrick, who is going to continue to play second fiddle tonight, but the crowd loves it.  Even Bey and Jay are bouncing up and down.  Every year has a Grammy performance worth noting for posterity.  This is 2014's.
Who follows that?  Kaycee Musgraves and her novelty lyrics, joined by a five piece country band draped in Christmas tree lights.
We are still averaging two awards per hour at the award show.
Julia Roberts shows up to intro the almost 50th anniversary of The Beatles performance on American TV with a long commercial for the Grammy two hour special in two weeks.  Finally, Ringo and Macca take the stage together.  Yoko and Sean Lennon joined the audience in sort of bobbing to the music.
Gloria Estefan and Marc Anthony acknowledge Pharrell as Producer of the Year and then award Best Pop Vocal Album to Bruno Mars' Unorthodox Jukebox.  As this generation's hitmaking Macca, that's appropriate.
Jeremy Renner intros Willie Nelson and Kris Kristofferson, who won a lifetime achievement award earlier.   Just like the Fab Two earlier, much respect for these guys and their friends Merle Haggard and Blake Shelton, a young piker in their midst.  The crowd helps them get through some of country's most endearing hits created by the three older guys.  Keeping the country vibe going, Martina McBride and Zac Brown pay special tribute to George Jones and Ray Price before announcing Best Country Album. Kacey Musgraves smokes the heavily favored Taylor Swift and Blake Shelton.
Pharrell gets his moment of glory as he sings lead with Stevie Wonder and Niles Rogers on either side.  They sing Get Lucky with the natural mashup of Freak Out.  This is the other special moment of the night.
Cyndi Lauper intros Sara Barielles and Carole King.  You've seen the Elton-Billy Joel concert?  This one is the authentic singer-songwriter version with two people who extend way beyond the single and harmonize to make the other sound better. Another strong performance moment for the night.   Sara is overjoyed enough to jump up and down in place after as they give Song of the Year to a surprised Lorde for Royals.
Jared Leto does a nice job of honoring Lou Reed.  Classical pianist star Lang Lang performs One with Metallica as fire and lasers swirl around the stage.  For the first time tonight I've said the words, "I would buy that".
After the brilliance of hearing a classical genius with a metal guitar, we listen to Steve Tyler serenade Smokey Robinson off-key.  They're here for Record of the Year, which smartly goes to Daft Punk's "Get Lucky".  Niles Rogers gives more love to Smokey as the robots defer to their vocalist.
Queen Latifah gives Same Love the lovely intro it deserves.  Then the magic gets weird and wonderful as Queen Latifah marries 33 couples.  Madonna shows up with a walking stick and a slow version of Open Your Heart.  She looks and sounds horrible, but what a moment.
A long memoriam video package gives way to Miranda Lambert and Green Day's Billie Joe Armstrong paying tribute to The Everly Brothers with a pretty duet of When Will I Be Loved?

Alicia Keys led Yoko Ono (which explained her presence) and Olivia Harrison, George's widow.  Daft Punk scoops up Album of the Year.  This time Paul Williams gets to speak, eloquent as always and the three dozen couples married minutes earlier.
LL Cool J gives the stage up to NIN, Queens of the Stone Age, Dave Grohl and Lindsey Buckingham.  It's an eclectic pairing and Grohl seems to get a workout behind the drum kit.  What it lacks in imagination is still better in comparison to last year's ragged ending.
In all, half the performances were pretty damn good, but n0t the half that might have been expected.  The group wedding was a pretty great television moment and for every nod to contemporary music (see Daft Punk), the show continually moved back to the world watched by safe VH-1, soccer moms.