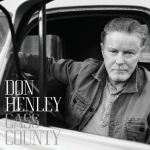 I've listened to Don Henley's Cass County and I think it's a keeper!
Fall is one of my favorite times of year for many reasons. One of the best reason October rocks is that it's a good time for new music. Don Henley's Cass County was released on September 25, but I have been taking the week to get to know this new release. It's Henley's first new release in fifteen years and he's lined up an all star roster of Nashville stars to help him make Cass County a great album. While much of Cass County's songs are original Henley compositions, quite a few tracks are covers. Henley named this album after Cass County, the county where his hometown of Linden, Texas is located.
I purchased the sixteen track iTunes deluxe version of this album, though several versions are available. Frankly, if I'd had the ability to, I would have bought Target's version, which features bonus tracks by Alison Krauss and Stevie Nicks that aren't the iTunes version. Wal-Mart also has a deluxe version of this album. The standard version is twelve songs and is available on Amazon.com. Unfortunately, the iTunes version doesn't include liner notes, so I'm left having to guess about some of the personnel.
Cass County kicks off with "Bramble Rose", a gentle waltzing ballad featuring Miranda Lambert and Mick Jagger, of all people. Jagger's distinctive vocals are an interesting addition to this otherwise smooth number. I will admit to not being very familiar with Miranda Lambert's music, but she has a very pleasing voice that blends well with Henley's. The three mix wonderfully toward the end of the track as they sing the chorus. I never thought I'd hear Mick Jagger sing anything resembling country music, but I will admit he does fine on this… and recognize that his own style is heavily influenced by rhythm & blues and soul, which is a cousin to country music.
The next song is "The Cost of Living", a song Henley performs with Merle Haggard. Henley had commented that singing with Haggard was sort of on his bucket list. Again, a solid track, though it's not my favorite on this album, nor is it the most memorable.
The energy kicks up with "No Thank You", which is a rocker with amusing lyrics. Henley has a reputation for being sometimes difficult and cranky. That crankiness comes out in this song, which sounds like an old codger who's been there and done that. The more I hear this song, the more I like it, mainly because I identify with its cranky mood. It's a real "anti bullshit" number… maybe right up there with "Get Over It", Henley's 1994 hit with The Eagles.
I really like "Waiting Tables", a song that speaks to me because I waited tables for awhile, biding my time until something better came along. This song's melody reminds me a little of "Tequila Sunrise" and a little by "Learn To Be Still" by The Eagles. It sounds like a song they could have recorded in the 70s and many will identify with it, especially women who grew up in a small town.
The dramatic ballad "Take A Picture Of This" sounds a little more like Henley's more recent offerings. It reminds me a little of his sweet love song, "Taking You Home". It's followed up by the pretty waltzing tune of "Too Far Gone", a song that laments love lost.
Henley teams up with the dynamic Martina McBride on the driving, rock edged song, "That Old Flame". Henley and McBride sound great together… this song sort of reminds me of when Henley teamed up with Patty Smyth in 1992 and sang "Sometimes Love Just Ain't Enough". This song has a similar sound, only it's more Nashville than rock and roll. And, in fact, the song is about how you can get burned trying to rekindle an old flame. That's true… there's usually a reason people break up, right?
"The Brand New Tennessee Waltz" is a cover of the late Jesse Winchester's original composition. I like this song because it kind of has an old fashioned feel to it, with lots of acoustic strings and a quick stepping waltzing rhythm.
"Words Can Break Your Heart" has more of a modern sound. It's a pensive ballad, again reminding me of "Learn To Be Still". Unfortunately, this song didn't successfully download on iTunes and I ended up having to get it from Amazon.com. The woman singing with Henley is not identified. I am guessing it's Trisha Yearwood, but I'm not sure.
I don't have to guess who the lady singer is on the next track. It's Dolly Parton, still sounding wonderful as she joins Henley on their majestic duet "When I Stop Dreaming". I read in an interview that Henley had to coax Dolly to sing as high as she does on this song. It was a good instinct on Henley's part. Dolly is still awesome and a welcome voice on Cass County.
"Praying For Rain" is an interesting song that will resonate with those who have noticed climate change. It wouldn't be a Henley album without some mention of the environment, since it's no secret that Don Henley is a big supporter of environmental causes. It's a good song with strong lyrics, and it won't be too surprising to anyone who has listened to Henley's music over the years. The mandolin accents on the chorus sound tingly, like maybe the fresh drops of rain would feel after a prolonged drought.
A little saloon piano opens "Too Much Pride", a song warning against being too hard to satisfy. I wonder how closely Henley follows the advice in this song about "lightening up". Henley explains in a CMT interview that he knows he has a reputation for being easily upset. He explains he's a normal guy who isn't so bad. He just doesn't satisfy fools gladly. Alright then. I like the song, though. I should probably heed the words myself.
"She Sings Hymns Out Of Tune" is a cover of a song originally done by The Dillards and written by a little known composer named Jesse Lee Kincaid. Henley explains that he thinks this is a very interesting song. I tend to agree. The lyrics tell a story, again, about an ordinary person with a story.
It wouldn't be a country album without a song about a train, right? "Train In The Distance" is a song with a story that brings to mind scenes from the past, of growing up in a small, southern town, seeing Grandma every day and dreaming of what's beyond the tracks.
"A Younger Man Now" is a ballad about a guy who admits to his woman that he's not the man she wants. He sings of not being a knight in shining armor. She's looking for a younger man than who he is. Perhaps this song could be described as the song before the breakup. I think a lot of men will relate to it, especially if they've gotten involved with someone who is trying to change them into someone they aren't.
The last track on my iTunes deluxe version of Cass County is another rocker. It's called "Where I Am Now" and has a lead guitar that sounds very familiar… kind of like the country songs that have been coming out of Nashville for years. This track is different because Don Henley is singing it. The lyrics are pretty cool, though. They're about a guy who has become comfortable in his own skin. He likes where he is now. So do I.
If you are living in the States, you have the chance to buy a number of different versions of Cass County. It kind of annoys me that artists do this nowadays, but I guess it's their way of making more money, especially since people can now download only parts of albums. True fans are liable to buy all the different versions of whatever they're selling. At this point, I can't get the Target version of Cass County in Germany. If I were in the States, I'd probably go for that one over the one I have. Your mileage may vary.
Overall, I think Cass County is worthwhile for Henley's fans, especially if you like country music.