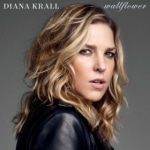 My husband and I were lucky enough to score last minute tickets to see Diana Krall in Stuttgart, Germany…
It happened over last weekend. A friend of mine who shares my love of beer sent me a private message on Facebook. He wanted to know if my husband Bill and I wanted to see Diana Krall. He followed up by telling me who she is– which I thought was pretty funny because I've been listening to Diana Krall for years. I didn't know she was coming to Stuttgart, though. My friend said he'd really wanted to go to the show. It was a birthday present to himself. But he's about to leave Germany and the movers were coming to start packing up his house, so he and his wife couldn't go.
I'll be honest. As much as I love music and enjoy hearing it live, I haven't been to very many concerts. I am not one who enjoys big crowds, traffic jams, or trying to find a parking place. But Bill and I were due for a date night and it had been years since our last concert. In fact, I think the last one we saw was also in Stuttgart, Germany back in March 2009. Lyle Lovett played a great show at the Liederhalle and I remember thinking how nice the venue is and what great seats we had.
I asked Bill what he thought about seeing Diana Krall in the middle of a work week and I gave him my friend's deeply discounted ticket price, especially for the awesome seats we had. He gave me a slow yes. We bought the tickets and saw the show, which was to support her latest, rather pop oriented album, Wallflower.
Bill and I found our seats near the aisle on row eight. My friend had chosen good ones; we had a seat on either one of us free and I had pretty much an unobstructed view of the stage. I could see Diana at her piano, looking slighter than I imagined her to be. She had a fantastic band, the names of whom she mentioned several times. While everyone in the band played effortlessly, the two standout musicians last night besides Krall herself were Anthony Wilson on guitar and the legendary Stuart Duncan on fiddle. Being a bluegrass fan, I had heard of Duncan and enjoyed his playing many times on many albums. I think it may have been my first exposure to Wilson, but it definitely won't be my last. Upright bass player Dennis Crouch stood by Krall, stoically and expertly playing his large violin and providing structure and texture to the performance. I also enjoyed the drummer and organ players, but their names escape me at the moment. I think it may be because Wilson and Duncan were coming so close to stealing the show!
The first thing I noticed about Krall's set list was that she only played a few songs from her latest album; much of the approximately two hour show was devoted to her older, jazzier material. I liked that and so did the many Germans in attendance with us. Accompanied by an interesting and artistic computerized light show, Krall and her band played a whole lot of songs by Nat King Cole, interspersed with more recent hits. I think the standout number last night was "Temptation", a song by Tom Waits which suits Krall's smokey vocals and gave her excellent band the chance to show off their skills. Wilson practically looked like he was making love to his guitar, complete with ecstatic facial expressions. Duncan made sounds come from the fiddle that I've never heard before… and I loved it! And Krall's fingers danced nimbly across her keyboards, enthralling the audience as she easily moved from an electronic keyboard to a grand piano. I enjoy Diana Krall's singing, but I think I love her piano playing much more. She is a very gifted pianist.
About an hour into the two hour show, Krall's band departed. She asked the audience not to worry; they weren't going far. She said they needed beer. I can relate and they're in a good place to get it. Krall then played several songs alone, including "S'Wonderful", which is the very first song I ever heard her sing, and "Frim Fram Sauce". I thought maybe we'd get an intermission, but she kept right on playing, chatting with the audience and telling us about her world tour. She said her eight year old twin boys had a chance to join her for "a little bit". I couldn't help but wonder how hard it must be for musicians to leave their families when they tour… but then, as the wife of a retired Army officer, maybe I have more of an idea than many do. She sang "A Case of You", explaining that she'd had the chance to try some of the local wine, which she really enjoyed. And she played her haunting rendition of "California Dreaming" and Bob Dylan's "Wallflower".
At the end of the show, the Germans were on their feet, demanding an encore. Krall and her band obliged, and included a mesmerizing rendition of "Boulevard of Broken Dreams". The music was enchanting, but what really got my attention was the visual display, which showed a couple from the 30s dancing. Bill said he thought it might be Marlene Dietrich and I wish I were cultured enough to confirm his suspicions. But watching the dancing couple from the past while listening to Krall and her band play live was breathtaking and I could hear that the audience was as amazed as I was. A baby cried and Diana spontaneously broke into a lovely rendition of "Brahm's Lullaby", during which Duncan joined her on fiddle. That made the audience laugh. The child stopped crying, but started again once Krall moved on to the next number. Krall said, "I got lots more where that came from." eliciting more laughter from the crowd.
Naturally, there was a standing ovation and Bill and I left the concert hall feeling wonderful. I had to send a note to my local friend, thanking him for letting us buy the tickets. Hopefully, he'll have the chance to see her in his next duty station in Washington State. As for me, I think I've become more of a Diana Krall fan now. Diana Krall's world tour continues tonight in Frankfurt, Germany. She'll be in North America next month.