Artist: Debo Band
Album: Debo Band
Debo Band are eleven students and graduates of Boston's Berklee College of Music — singer, guitar, bass, drums, accordion, two violins, four brass players — whose self-titled debut is my new favorite album of African-styled music, for what that's worth. My prior favorites were Who is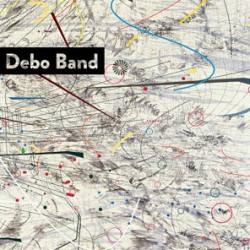 This America? by New York City's Antibalas Afrobeat Orchestra and, I guess, Remain in Light by Talking Heads — as well as, oddly, one album made by Africans (Tony Allen's Secret Agent). My favorite album *from* Africa, Wildebeest's Bushrock 1, is a rock album that doesn't strike me as obviously African at all. Basically, when it comes to Afro-pop, I don't know what the heck I'm talking about. As a music critic, that's a weakness. I submit, however, that for a music *fan*, it's a good thing: how do we learn, if we don't start in ignorance?
Here, then, are some of my listening notes, trying to make sense of what I don't understand. Akale Wube opens with fluttering cascade of violins. Settles into lean groove that's equal parts klezmer and funk. Repetitive rhythm guitar, sax solos, fanfare. Ney Ney Weleba builds around fluid wailing Arabian-prayer-style vocals and a call-and-response between the brass-section and thumping drums, each avoiding 4/4 time. It builds quite the percussive momentum at the end. Yekefer Wegagene is slower, solemn, and reminds me of my old Israeli folk-dance classes.
I'll list just two more, my favorites here. Habesha leads with a sinister bass groove, has fiery guitar solos, and is punctuated with drum-and-choral interruptions like Queen leaping out at you from behind a dark corner on Halloween (Freddie Mercury, refusing to Rest In Peace, included). By the end, it's grandiose in a way that's part Africana and part classical-based movie score. DC Flower is a cheerful, lovely pop song driven by fast clip-clop drumming and a swaying arrangement: someone who found the rest of the album 100% intimidating might still hum happily along to this one.
I'm gonna cheat now, and Google for informed perspectives. Reviewer Matt Cibula says "In just under an hour, we get a tour through funk, brass band music, R&B and rock, and at least three different kinds of jazz… all filtered through an Ethiopian sensibility". David Peisner says "Ethiopian-American (leader) Danny Mekonnen is an ethnomusicologist by training… but he also has a mischievous, highly un-academic side… The lack of orthodoxy on display throughout Debo Band is consistently refreshing". Joe Tangari adds "[E]ven if you've spent hours listening to Mulatu Astatke and Alemayehu Eshete, you'll hear plenty of fresh ideas here, as the band spikes its arrangements with hints of Romany brass and even Celtic melody". Sure, seems plausible. Seems like an album that I'd find a worthwhile challenge, too. Which – hey – is what *I* said. Alright, then.
– Brian Block
To see the rest of our favorites, visit our Favorite Albums of 2012 page!