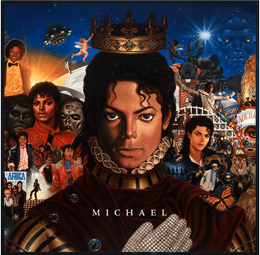 Amidst the release of the Breaking News, the song that is streaming on Michael Jackon's website that we wrote about earlier, are rumors that the vocals in the song aren't actually Michael Jackson's.
If you listen to the song, you can definitely hear some blending of vocals, which isn't uncommon in R&B music. Some of the biggest hit records have background vocals blended in to make a singer's voice sound more full. But the rumors aren't that Jackson's vocals are being blended with someone else's. The rumors are that Jackson's vocals aren't anywhere on the actual song.
Check out what TJ Jackson, son of Tito, and one of the members of 3T wrote about the song earlier via his Twitter account:
There's many MJ vocal impersonators. Some better than others. But there is only ONE Michael Jackson. Deceptively merging shady vocals with MJ samples (from prior MJ records) will never fool me. Why they would ignore the obvious, look the other way and rush a suspicious track that was NEVER on my Uncle's radar is beyond me. I'm disgusted, disappointed and saddened. And before the media starts to smear our name, just remember we are COMMITTED (as our Uncle Michael always knew) to protect his name and his amazing legacy he worked his whole life for. We have nothing to gain and we know they will try to drag our name through the mud. But we know how much he valued his legacy and his fans. And cheating either is unacceptable. "Lies run sprints, but the truth runs marathons"
He went on to apologize to fans and said that he thought it was Michael Jackson mimic Jason Malachi and that if you listened to the a capella version of the song you'd hear, "Sampled breaths after sampled breaths mixed in with fake vocals to try to fool you."
The biggest Michael Jackson fan I know, Big Money Mike, who writes Popblerd!, sent me a note that said that he's pretty sure the main vocals aren't MJ's.
What does everyone else think? Listen to the song below and let us know. MJ or not?