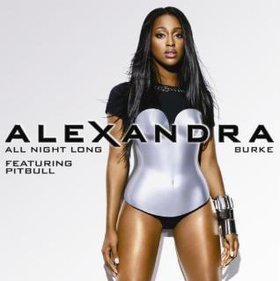 Hey all, remember Leona Lewis? You know, the 2006 winner of the Simon Cowell-headed British talent search show The X-Factor (which Cowell plans to bring to the U.S. later this year)? The British Mariah? "Bleeding Love"? Can it be that "Bleeding Love" is only three years old? Can it be that only two albums into her kid-tested, mother(-and-Cowell)-approved career, and despite an appearance on the soundtrack of one of last year's most talked-about movies (the song "Happy" featured prominently in ads for Precious), she's already adrift in has-been territory? There are a lot of plausible explanations – lack of raw talent, not one of them – for Lewis's premature fade-out. The fact is, she's sorta boring. And, despite the rubber-stamp of Cowell, who's ever harping on the virtues of currency and relevance, Lewis is really neither. She's a pretty cipher with a voice, now lost in a crowd of Autotuned provocateurs.
Two years later, in 2008, Cowell anointed another pop starlet, then 20-year-old Alexandra Burke – The British Beyonce, maybe, maybe, fingers-crossed maybe? – as that year's X-Factor winner, beating out stiff competition from crowd favorite Diana Vickers (who's done quite well on the UK charts since then) and biracial boy band JLS (whose J.R. Rotem-produced single "Everybody in Love" has been flirting with American radio playlists for the last several months without quite breaking). Burke's winning performance, yet another cover of Leonard Cohen's revered but oft-abused 1984 classic "Hallelujah", a song that, due to an intimately overwrought mid-90s cover, fans of the tragic singer-songwriter Jeff Buckley regard as a sacred religious text. Angry at the blasphemy of a common pop singer's – nay, a common reality show competitor's -performance of the song, British Buckley fans declared a sort of download fatwa against Burke the week her single version of "Hallelujah" was released, urging the rockist faithful to download copies of Buckley's version in order to keep Burke's from debuting at number one on the charts. Not only did the Buckley campaign fail, but Burke's single sold a record-breaking 100,000 plus downloads in its first week.
Compounding the irony: Alexandra Burke didn't really care for the song. As is the case with many (most) Idol winners, that first single sailed on the ardor of a television audience; it's success had little to do with the direction (specifically, a penchant for Euro club bangers) Burke would take on her debut album. Overcome, released in the U.K. late last fall, boasted collaborations with producer-of-the-moment RedOne (who, she's said in a recent video blog that she is back in the studio with) and her first non-X-Factor related single, "Bad Boys" featured a guest spot by the reigning king of the club-ready (read: irresistibly empty) rap, Flo Rida. Her latest, which stormed the British Top 10 earlier this month is a great little retro-disco flavored number called "All Night Long", featuring Miami rapper Pitbull. It seems only a matter of time before Cowell launches Burke here in the States (maybe he's saving her for the American X-Factor debut). Given that Europe and the U.K. are already three singles deep into Overcome, it's likely that if and when the album does show up here, it will, like Taio Cruz's just-released Rokstarr, be a reconstruction of the British album – more a "greatest hits so far/what you've been missing" set than a proper debut.
So here's what you've been missing. For the video of "All Night Long", Alexandra Burke invited a bunch of pals over to her place (presumably) for a night of music-fueled debauchery, armed them all with video cameras (a la Bon Jovi's "Bad Medicine" video), and reports back with the results, crayola sunglasses, metallic sequined eyelids, alterna-drag queens and all. Pitbull appears poolside in what appears to be a pre-taped address to the freaky, freaky congregants.