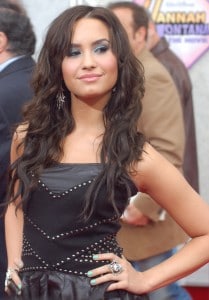 Mid-way through Monday night's show, Ryan Seacrest unveiled the world's worst kept secret. Even though TMZ reported it the night before, Seacrest had to pretend that many viewers didn't know that Jermaine Jones was in trouble and was going to be eliminated from the show.
(I didn't think he should've even made the top 13, but oh well.)
There were several warrants out for his arrest and he'd used uncreative fake names to evade punishment (until now) like Joel Jones. Jones had no chance in hell of winning this show, so while I hope he can get his act together, I wasn't really sad to see him go. They will still eliminate someone tonight.
After Monday's boring performances, here's my top and bottom 3 for the week:
Top 3
1. Joshua Ledet
2. Hollie Cavanagh
3. Colton Dixon
Bottom 3
1. Heejun Han
2. Shannon Magrane
3. Deandre Brackensick
Ryno's not playing around. He brings up Phillip, Skylar, Elise, and Joshua to the center stage. Either Elise is going to the bottom three, or no one is. No way any of the other three are going there. Joshua is fine. Phillip is safe. Skylar is safe and Elise is in the bottom three.
Demi Lovato is out singing Give Your Heart A Break. I was hoping she'd sing my favorite song Love Me Like A Love Song, but then I remembered that was Selena Gomez's song. I liked Lovato better on Sonny With A Chance.
Ryno brings out Deandre, Muskrat Colton, Shannon, and Jessica. If anyone's in trouble, it's Deandre. I think Shannon has one more bad performance in her before she's going to be in the bottom three again. Muskrat Colton is safe. Jessica is safe. Well, I was wrong. Deandre is safe and Shannon is in the bottom three.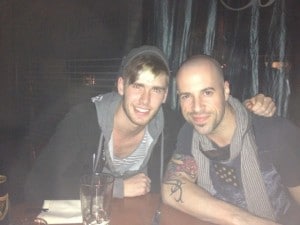 It's Daughtry's turn to perform and he performs in Daughtry-like fashion. It's been stated that Colton is a huge Daughtry fan and they hung out recently. To the right is the photo, via Chris Daughtry's Twitter, they showed on American Idol. One guy needs to share some of his hair with the other guy. I'm not saying who is who.
And now, it's time for Hollie, Heejun, and Erika. Hollie and her soulless power ballads are safe. Heejun is safe and Erika is in the bottom three. America doesn't like them some females. America doesn't like them some blond females. J. Lo thinks it's unfair that Elise is up there. Randy and Steven agree. Guys, Elise is still paying penance for last week. And because she looks like she's plastered 24/7. However, Elise is safe. So it's down to Erika and Shannon.
Well, poor Shannon is a goner. She gets to sing for her life, but even if she kills it, I don't imagine the judges save her. Not when they're going to need to save Joshua Ledet or Jessica Sanchez in a few weeks when America screws up.
The judges won't save her. Shannon is eliminated. And even worse, she doesn't make the top 10 tour. If she wasn't so darn tall, she's cute enough and charming enough to go the Disney route. She has a bit of pizazz, so I wouldn't be surprised if she was doing TV or something else show business related.
Seacrest out!