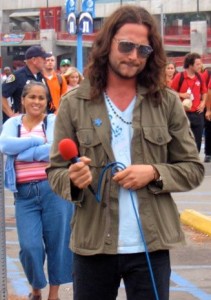 Last night was a fairly boring night for American Idol. No one really stood out and the judges reaped everyone with praise. Well, except for Pia. J. Lo was very positive in her critique, but if you break down what she was really telling Pia, it was that she needed to step up her entertainment game and that it wasn't only about her voice. If you think about it, J. Lo knows that. J. Lo can't hold a tune herself, yet she's survived in the music business because she entertains.
Jacob led off the show and had some odd, preachy statement which said something to the extent of, if you vote me off, it's your fault, not mine. It really came out of left field. As if he's not already polarizing enough. It just gave the people who can't stand him more ammunition.
After the show was over, I thought Pia, Paul and Haley could be in trouble. However, for whatever reason, the judges want Haley to stick around. But at this point, I wouldn't be surprised who leaves. Everyone, with the exception of Lauren and Jacob are all on the same playing field. Those two are the only ones who stand out, though, when Jacob decides he needs more enemies, it scares me.
J. Lo Booty Alert
J. Lo is wearing some hip hugging, but baggy, shiny pants, but again, no view of the badonkadonk.
The group did a bunch of songs that weren't all that impressive or that fun.
Ryno said that the crew was visited by a "charisma coach", which was just a way to get Russell Brand on TV to hype his movie Arthur. He did absolutely nothing and it was a waste of a few minutes of the show.
Casey, Stefano, and Lauren are asked to join Ryno. One of the three are in the bottom three and that person is Stefano.
Ryno ruins my evening and says that Constantine is singing live tonight. And he's singing Unchained Melody. The second he's shown on stage, I feel molested.
(I actually saw Constantine in person several years ago. My friend was trying out for American Idol and in order to be able to try out, you had to get your credentials super early in the morning the day before. While waiting in line to get the credentials, Constantine was there. And if he doesn't already look strung out normally, imagine him at 6AM. He looked like he'd been on quite the bender. The photo above was taken on that morning.)
Yes, he's also terribly oversinging the song and looks eerily like Russell Brand.
Gwen Stefani dressed the girls this week. It's more wasteful TV, but Gwen is secretly super tall. She also desperately needs a tan.
Ryno calls up Paul, Scotty, and Pia. Paul looks quite unkempt tonight. Scotty is safe, Paul is safe, and Pia is in the bottom three. This is very interesting. It's also interesting when the contestants are surprised that someone is in the bottom three. When Paul came back to safety, the contestants were astonished to see him. Jacob mouthed, "Wow" right as Paul walked by him.
There's a TMZ segment where the contestants get grilled by TMZ "reporters". This was more wasteful than Gwen and Russell Brand put together. Just horrendous television.
Ryno calles up James, Haley, and Jacob to the stage. If Haley is safe, we riot. James is safe. And Haley is safe. Jacob is in the bottom three. Damnit Jacob! You can't preach on American Idol unless your name is Simon.
Iggy Pop is on stage. Yep, perfect for the American Idol demographic here. He's shirtless with an old skinny man's body. He also looks like he smells really badly, though I'm not sure how I can tell that. And I think he was just bleeped from saying the "F" word. He then got right up in J. Lo's face and I'm not sure that she liked it.
Ryno brought up the dumb thing Jacob said yesterday, but it didn't matter because he's safe. We're down to Stefano and Pia, who are rumored to be dating, by the way. Stefano is safe and Pia is going home. Randall looks shocked. Ryno kind of gave away the finish when he said the vote could be shocking tonight.
J. Lo is crying. Randall is in shock because Pia is one of the best singers. Well guess what judges, that's what you get for saving Casey so early. Pia is just as savable as Casey was and possibly more so when it comes down to what kind of music they want to promote.
This kind of sucks for Stefano because the judges keep saying that America got it wrong, which means they think he should've gone home. This is the first time this season where someone who could've actually won this show has gone home. I now fear big time for big Jacob. If Pia can go home, he can too.
Seacrest out!