Artist: Youn Sun Nah
Album: Lento
The song Hurt — which is covered on Youn Sun Nah's 8th album (but first for me) Lento, so I'm not being random — began as the final track on Nine Inch Nails' emotionally draining masterpiece the Downward Spiral. Following 14 tracks in which pretty, minor-key pop tunes were barraged with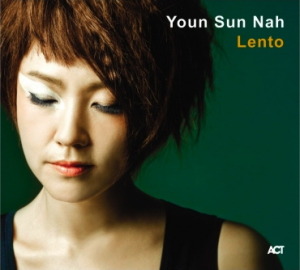 dozens of layers of aggressive studio effects — and shuttled abruptly between different time signatures, noise levels, and genres — Hurt was fragile and intimate, but every bit as precise. The ragged near-whispered opening vocals, rhythmically in mild defiance of the slow-picked acoustic guitar, is set over a whooshing noise. As the singing tightens up towards the chorus, layers are added, the guitar resounding full-bodied with one chord repeated, a soft droning woodwind-like melody inserted, a simple but lovely piano melody counterpointed. The returning verse is a musical repeat of the beginning, but by the second (final) chorus, the repeating guitar chord is shifting among several harsher new tones. The song ends with three abrupt, dissonant, vastly expressive chords that fade into a mechanical whir. Hurt is an emotionally vulnerable and honest song, but it is, after all, a song about being an unreliable drug-addicted liar who alienates all of his friends: it makes sense that it should be both pretty and a little bit ugly.
Hurt was a modest hit as the fourth single from Downward Spiral, enough so that NIN's Trent Reznor reported the discouraging experience of watching strippers obliviously dance and disrobe to it in a strip club; but it may at this point be better known for being covered in 2002 by country singer Johnny Cash. Cash's video is certainly far superior, as video, to NIN's. The dude was really old when he recorded it and had been famous for more than four decades: as he sings about what he lost from drug abuse and assholery, the screen is able to show-not-tell photographs and film clips of quite a few examples. The video also lends the song a universality it wasn't written with, since anyone who lives long enough, no matter what they do, will start to find that "Everyone I know goes away in the end". As for the *music* on Cash's cover … actually, it's a lot better than I remembered. It's very respectful, with not a hint of country in it. It subtracts the piano counter-melody and the whooshing noises, and it deletes those last three chords, all of which are losses; but replacing the intensifying guitar chord with an intensifying repeated piano note works, and there's some fine blocky piano chords thudding around the edges. The emotional intensity of the singing is just as strong. I disagree with people who tell me that Cash's version is *better*, because as mentioned the dude was old, and his voice had picked up croaking and bleating qualities that don't serve the melody. But the song came through when he performed it.
Youn Sun Nah's version on Lento strips the arrangement down further, in a way that fits at least half her album: just her voice and Ulf Wakenius's acoustic guitar, slower than before and so precise that every note, every drily tapped string comes through. She's by far the most technically gifted of the three singers, and her voice is the prettiest of the three (and takes occasional jazz-chanteuse liberties with the melody), but Lento is reported to be the starkest,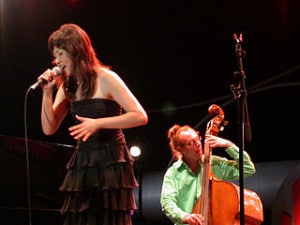 most intimate record she's made, and her performance allows hesitation and tremor and, briefly near the end, a stubborn and deliberate fierceness. Wakenius's guitar work is subtle, and excellent miking lets us pick up how he intensifies the song, more than anything, by playing in a way that draws out more and more of the guitar's natural echo. I wrote years ago that I was sure Downward Spiral's songs wouldn't need anything more than voice and one instrument to have power, but it wasn't Johnny Cash who took up that dare (despite how well he transformed, e.g., Soundgarden's Rusty Cage in that format). Now it's a bunch of Koreans, who may not have a clue who Reznor or Cash are, who've gotten the first demonstration.
Most of Lento is this quiet, built around a small acoustic jazz-pop combo. Empty Dream, like several other tracks here, is a-cappella in places, and elsewhere is set to rubbery reverberations of guitar (or perhaps Lars Danielsson's bass) and flitting accordion. Lament's accordion drone and liminal bass back up (and build up behind) busy, slightly military percussion and firm, determined vocals like a deeper-voiced halfway point between Joni Mitchell and Bjork. Full Circle uses similar ingredients in a gentler, more reassuring manner. Then again, Ghost Riders in the Sky sees her twist and strain her voice over harsh drumming and tiny high squalls of accordion and guitar: tensed somewhere between Talking Heads' Cool Water, Ennio Morricone's dusty westerns, and Diamanda Galas's shrieking operatic rock.
The song that drew me to Youn Sun Nah was Momento Magico, still for me the album's highlight. Composed by guitarist Wakenius, it's fast and fluttering and cheerful: his own (superb) playing, the soft accordion and drums, and Nah's singing, which flutters and bubbles and soars and dives, giddily dispensing nonsense syllables and, a couple of brief times, the best impression of the Big Bopper's comic bass voice I've heard from a woman. As lovely and often haunting as her quiet songs are, I'm normally more drawn to high energy and good cheer. But from what I'm told, she's already made albums perhaps closer to Momento Magico in spirit; they're out there for me to find. Lento is more than good enough to pique my interest. And sometimes, when I have more energy than the time of night really warrants, it's right for me with just the balance it has.
– Brian Block
To see the rest of our favorites, visit our Favorite Albums of 2013 page!