Every year, New Jersey based songwriter / music journalist/ novelist Tris McCall conducts his Critics' Poll, a set of questions as basic as "best albums"/ "best singles", as refined as "best guitarist" and "best album cover", and as snarky as "song that would drive you craziest on infinite repeat" and "hoary old bastard who should spare us all and retire". Tris encourages explanations, rants, and voters making up their own categories and questions. Pop Rock Nation's Brian Block is publishing his 2014 ballot, as he did with his 2012 ballot, free for comment and carping.
Best albums
1. Ian Anderson – Homo Erraticus
2. Seeming – Madness & Extinction
3. Dead Milkmen – Pretty Music for Pretty People
4. Knifeworld – the Unravelling
5. Sage Francis – Copper Gone
6. Neneh Cherry – Blank Project
7. Owen Pallett – In Conflict
8. MoeTar – Entropy of the Century
9. Kate Tempest – Everybody Down
10. a Great Big World – Is There Anybody Out There?
Followed closely by
Andrew Jackson Jihad – Christmas Island
Angelique Kidjo – Eve
Cary Judd – the Vacationist
Cheeto's Magazine – Boiling Fowls
Greenwall – Zappa Zippa Zuppa Zeppa
Jon Langford and Skull Orchard – Here Be Monsters
Kate Miller-Heidke – O Vertigo
Kristeen Young – the Knife Shift
Laibach – Spectre
Landlady – Upright Behavior
Mostly Autumn – Dressed in Voices
PoiL – Brossaklit
Stars in Battledress – In Droplet Form
Statuesque – All Your Requiem Requirements
Stephen Malkmus and the Jicks – Wig Out at Jagbag's
Tori Amos – Unrepentant Geraldines
I wish I had some fascinating rationale for picking Ian Anderson at #1. But the fact is I've always loved his voice, his sense of rhythm, and his flute-playing, plus he's a well-above-average lyricist who engages with the world, so any time he comes up with a strong set of hooks — which happens sometimes — he's going to be high on my list. Aqualung in 1971 and Homo Erraticus in 2014 are the only two that happened to top it, but I'm taking it as a promissory every-43-years schedule, and am now setting aside my Best of 2057 list in preparation.
Seeming's Madness & Extinction is the best album I've ever bought because the bandleader is best friends with a blogger I like. It is also, I suspect, the most bleakly beautiful goth-pop album ever to be written and sung by a co-author of a book about They Might Be Giants.
Greenwall's Zappa Zippa Zuppa Zeppa is the best 2014 album I tried out solely because of its title — but nowhere near best ever because I do that a fair amount. Less weird than Zappa, Frank, but a sound based in jazz, classical, and comical-sounding deep-voiced barbershop quartet at least seems to try to earn the title homage. They sing in Italian, so I have no idea if they're making fun of anyone.
Jon Langford and Skull Orchard's Here Be Monsters is my favorite roots-rock/ Americana album of the year. That Langford, also the Mekons' lead singer, is a British anarcho-communist may or may not be a complete coincidence.
Landlady's Upright Behavior was for my money the best TV on the Radio record of the year, even though an actual TV on the Radio record came out too.
PoiL's Brossaklit is the most cartoonishly over-excited progressive rock that I've heard since the self-titled 2011 album by Ruins Alone. Prog-rock is often casually thought of as an earnest genre, but there's nothing like being extremely skilled at one's instruments to encourage truly impressive goofing around.
Andrew Jackson Jihad have a Bandcamp page you (Tris McCall) should check out if they're new to you: you'd really like them. Sincere but amusing emo-folk by a guy whose inner thoughts and feelings are also world-aware enough to write two separate songs about Temple Grandin.
Best singles
1. Sage Francis – Vonnegut Busy
2. Seeming – Burial
3. St. Vincent – Digital Witness
4. Tune-Yards – Water Fountain
5. Lindsey Stirling w/ Lzzy Hale – Shatter Me
6. Kawehi – Heart-Shaped Box
7. Neneh Cherry – Blank Project
8. MoeTar – Regression to the Mean
9. Ace Wilder – Busy Doin' Nothin'
10. Courtney Barnett – Avant Gardener
Followed closely by
Against Me! – Black Me Out
Amaranthe – Drop Dead Cynical
Angel Olson – Hi-Five
Cold Specks – Bodies at Bay
Greenwall – Superpezzi!
Ian Anderson – Enter the Uninvited
Jack White – Alone in My Home
Kate Miller-Heike – Offer It Up
Kira Isabella – Quarterback
Knifeworld – Don't Land on Me
Kristeen Young – Pearl of a Girl
Laura Cantrell – All the Girls are Complicated
Metermaids – Advice I Know You Won't Follow
Nicole Atkins – Girl You Look Amazing
Seun Kuti and Egypt 80 – IMF
War on Drugs – Red Eyes
Sage Francis's Vonnegut Busy has a stupid title, but it's a wonderful protest song, and those remain as hard to get right — the specificity, the fierce humor amid the anger, the ability to think about the powers over our lives without falling into either naivety or despair — as they've ever been.
Seeming's Burial is almost the opposite of a protest song. I love its artfulness: how the first verse chooses who to address so that when Alex Reed sings "God will bury you, nature will bury you, time will bury your bones unseen" in his clear, resonant voice, it sounds like a thing to celebrate. But then he sings the same thing to "the worship of justice, the reliance on reason, and the fire in your eyes", and it's obviously just as true. "I'm not angry, I'm not scared, I'm just stating a fact" is the bridge, and that's not an easy response; my Mom died this year, after six months of rapid decline into helplessness from cancer, and I'm definitely a little angry about it. It could happen to me or my wife or my kids this year, and I can be scared of that if I let it. But 1000 years from now the specific details of the timing of our deaths will seem awfully trivial, and there's beauty in accepting that in advance, taking the relevance of hundreds of millions of years of statistical unanimity on faith.
Kawehi's Heart-Shaped Box is my favorite cover/ reinvention of a song in years. It's unrecognizable for over a minute, and that's no problem at all.
Ian Anderson's decision to rap the bridges of Enter the Uninvited is, I freely admit, every bit as clueless and ridiculous as Geddy Lee's choice to do the same on Roll the Bones. Two possible responses, in both cases, are derision and/or embarrassment. Me, I can't help finding it (in both cases) adorable. Maybe my brain's fogged from praising small children too often these past eight years, but why shouldn't old people stumble in public, in search of something interesting, too?
Best video:
I didn't see many this year, but the performance video for Knifeworld's Don't Land on Me is everything a performance video should be. The cuts are perfectly timed to emphasize everything new and interesting in the song; the visual special-effect gimmickry is simple but effective and allied to the song's moods; lead singer Kavus Torabi looks as much like a delightful renegade Time Lord as anyone could dare ask.
Best self-referentiality:
People's The Lyrics are Simultaneously about How the Song Starts and What the Lyrics are About, a title which is in fact sung during the song. The whole song is pretentious, funny, cheerful, and amazing.
Best song title that isn't fifteen words long:
Emperor X, Fierce Resource Allocation.
Best lyrical transformation of a song from an appalling exemplar of rape culture to a merely obnoxious exemplar of people being pedantic on Facebook:
Weird Al Yankovic, Word Crimes.
Song about which I am second-most ambivalent:
Ian Anderson, the Browning of the Green. His Gerald Bostock character from Thick as a Brick thought people were pretty stupid anyway, so it's no surprise he'd age into the kind of curmudgeon who hates the environmental effect of too many people. I want to assume no ill-intent when one of the catchiest songs Anderson's written in decades happens to use "browning" as a metaphor for too much breeding. And I try, because it's on a great record. But he has to know which groups of people get accused of breeding too much in particular, yes?
Song about which I am most ambivalent:
Tea Leaf Green, One Condition's Enough. If you play it and don't love the music, you'll miss the source of the ambivalence: I think it's as gorgeous and well-constructed a rock song as I heard all year. Handsomely sung, with melodies and rhythms that keep taking something pleasantly familiar and making it even more pleasantly unexpected, and adding woodwinds, piano, and brass that are composed with genuine panache and complexity. The lyrics are well-constructed too. I think if you tried to use conventional vocabulary and images to write a swooning romantic pop song justifying an abuser's perspective, you'd have a hard time topping it. And if you did, I'd wonder why in holy hell you wanted to.
Best singer:
Ian Axel (a Great Big World) for shamelessly theatrical, yet unguardedly open-hearted, expressiveness. Charlotte Martin for beauty.
Best comic-opera guest singers:
Waltteri Torikka and Suvi Vayrynen, on Utopianisti's the Vultures were Hungry.
Best rapper:
Kate Tempest, once I'd used rapgenius.com to get used to her accent; she's marvelously gifted at keeping a conversational flow that's actually conversational, getting in all the different characters. Before that I was going to nominate Rodney Amadeus Anonymous (Dead Milkmen), who makes up for any lack of flow by being so good-natured in his sneering, so prominently goofy/dumb-seeming in his whip-smart, cleanly articulated accounts of fools and knaves.
Best guitarist:
Mark Knopfler, who Rogained himself into thick dark hair and is for some reason now calling himself "Adam Granduciel" and fronting a band called "War on Drugs".
Best pianist, popular music division:
Tori Amos
Best pianist, unpopular music division:
James Larcombe (Stars in Battledress)
Best pianist, weaponry division:
Kristeen Young https://www.youtube.com/watch?v=J_Nn1p1P7jg
Best synth player:
Emmett Elvin (Knifeworld)
Best bassist:
Chris Squire (Yes)
Best drummer:
Ajayi Adabiyi (Seun Kuti and Egypt 80)
Best sax/ bassoon section:
Josh Perl, Nicki Maher, Chloe Harrington (Knifeworld)
Best flautist:
Ian Anderson
Best string arrangements:
Owen Pallett
Best backup vocals:
New Pornographers. Their Brill Bruisers felt to me — with the exceptions of Fantasy Fools and Dancehall Domine — like an empty exercise in copying the form of a New Pornographers record. But that's nowhere near as harsh a criticism as it sounds like because dammit, there's something very right about the form of a New Pornographers record.
Best production:
Aaron Fuleki and Alex Reed (Seeming). Madness & Extinction is grandiose, but every word rings out clearly, and it's one of those albums with layers upon layers, where perfect little details are still jumping out on the tenth and fifteenth listens.
Best lyricist:
One of the rappers, Kate Tempest or Sage Francis. Kate's the storyteller of the two, and brilliant at quick characterization. Sage used to be the densely argumentative and allusive political firebrand, which there's still hints of — enough that at first I hated how much the album is about his depression. But actually, that's just my instinctive and callow discomfort around people who are too sad for too long. Depression is a real and important topic, and while many many albums have been written from its midst, there's a legitimate shortage of clear-eyed writing about what, seriously, it's like.
Best songwriter:
Stephen Manning (Statuesque), who could really use a band and a production budget cuz his records could be fabulous. A man whose highly clever rhyme schemes and similes only make his tuneful Britpop songs more obviously heartfelt.
Best album cover:
Canooooopy, Disconnected Words Connect the Worlds. A thriving SimCity metropolis, in which the skyscrapers are cyborg outgrowths from tall fashion models, erects an emergency catwalk and sends forth a hero to protect it from the fallout of a literal arms race, while giant Buddhist mannequins flee for the hills at the sight of Drooling Space God. I don't pretend to understand the reasoning, it's just awesome.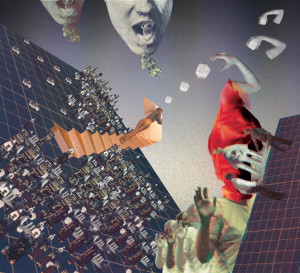 Best album title:
Home, Like Noplace, is There by Hotelier.
Best concert:
Ex Hex (Mary Timony) and the Julie Ruin (Kathleen Hanna) headlining a Girls Rock North Carolina fundraiser at the Cat's Cradle in Carrboro. I'd never seen a riot grrl concert before; I hadn't expected Hanna to be so friendly, so welcoming, so fun (and loved). I have seen a bunch of Helium/ Mary Timony concerts, and I've long admired both her impressive guitar skill and her experimental desire to reinvent her work. Logically there's no reason that couldn't manifest itself as "this year I'm going to write Bill Haley/ Buddy Holly songs and play them like I'm in Guns'n'Roses or Van Halen", but I sure as heck wasn't expecting it, and she and her band seemed incredibly happy too. I almost always dance at concerts, but usually, given my taste in music, I'm virtually the only one. This time I was one of dozens, and it felt really good.
Most welcome surprise:
Discovering the 50-year history of the TV show Doctor Who, about a kind and gleefully bizarre man who travels through time and space in a magic box and upends things wherever he goes until he regenerates into a new personality. It's a show I loved for two or three years as a teenager, then assumed I'd outgrown. I still have a fair amount of discovery to do — I've only lightly sampled the first, second, and fourth Doctors, haven't reached the twelfth, and haven't touched the original novels or the audio dramas — but for all that TV has produced quite a few shows that are good 95% of the time, I find myself exploring the conclusion that the greatest show ever might be this whacked-out jury-rigged BBC tradition that's only good 60% of the time, because it's good in such an extraordinary variety of ways, and its failures are so often more fascinating than most shows' successes.
Most welcome musical surprise:
The choir at City Church in downtown Greensboro, where I now sing baritone, led by my voice teacher Mittie Douglass, who has terrific taste in modern four-part harmony songs both energetic and pretty. I'm still not religious (although I haven't mentioned that to my choirmates), and I'm still not about to grasp gospel — it's the precise, complicated counterpoints I'm into. But I've read your (Tris's) Christmas Abstract multiple times, and given the tastes you show there, I bet you'd like our sound.
Minor but welcome musical surprise:
Waking up one morning to learn that there was a new U2 album and I already owned it. Songs of Innocence is not a particularly remarkable U2 album, but it's pleasant and mildly experimental, and Bono still has a great voice, and for all that people kvetch about his supposed self-importance, he makes fun of himself while earnestly using his fame and influence to master subjects like 3rd-world debt and banking policy at a level that wins praise from actual policy experts. Plus he gives away entire free albums to fans. And to non-fans, too, which I gather was some sort of issue — here in the 1st-world, anyway.
Biggest disappointment:
Yeah, the whole Mom dying thing kinda overshadows, say, the realization that Kate Miller-Heidke doesn't appear to have any interest in being funny anymore.
Song that got stuck in your head the most:
Some old Sparks song: The Rhythm Thief? Dick Around? This was the year my kids finally noticed, via Ron and Russell Mael, that songs have words and the words can be interesting; the year that, for the first time, they would suddenly start emoting "Oh! No! Where did the groove go?" / "I am the rhythm thief. Say goodbye to the beat". Or where I'd sing them Tips for Teens a few times and, hours later, they'd suddenly look at each other, sing the helpful advice "Don't eat that ice cream! Is it vanilla? Give it me. Don't eat that burger! Does it have mayonnaise? Give it to me", and just *cackle*.
Artist you don't know but should:
D'Angelo, apparently. His Pazz & Jop poll victory means nothing to me and caught me totally unaware.
Most overrated:
FKA Twigs
Album you feel cheapest about liking:
Nothing bothersome, but either Charli XCX's Sucker or Amaranthe's Massive Addictive, both of which are trivial collections of fun 3-minute songs, each in a popular style that racks up millions of YouTube hits. Sucker finished a respectable 34th in the Pazz & Jop poll while Amaranthe didn't get a single mention, because liking dance music makes critics feel proudly populist, while liking heavy pop-metal — which has at least as many fans — would remind them at once that The People have cooties.
Hoary old bastard who should spare us all and retire:
Beck. When he was young he rapped like a poet with senile dementia, and like you should go out and get dementia too so you could have as much fun as he was having. Now he's aged into making sense, and it's only going to get worse from there.
(I know I used to always nominate Bob Dylan, but the success of the Basement Tapes Complete: the Bootleg Series Vol. 11 makes it clear that his retirement, like Jimi Hendrix's or Tupac Shakur's, would do little to affect his output.)
Young upstart who should be sent down to the minors:
Javier Baez. But if you need a metaphorical, musical answer, Meghan Trainor: We can call her back up when her own recordings are 1/4 as fun as '40s-jazz style covers of them.
Artist you respect but don't like:
Aphex Twin.  A side-effect of rediscovering Doctor Who was spending a lot of happy time with some of the most innovative electronic music of the 1960s, so I was definitely more open than usual this year to spending time with some of the most innovative electronic music of 30-to-50 years later. Unfortunately even most of the innovators these days seem to let themselves be hemmed in by sonic and rhythmic conventions I don't care for.
Album with most-botched production:
Ex Hex, Rips, a perfectly solid record that captures their rock'n'roll/ punk-pop energy, but none of the proud '80s hair-metal-indebted guitar heroism of their live performances — and no, I never liked Van Halen, but c'mon, the gloss and speed of the guitar interplay was exactly what almost justified their crappy songs. Which Ex Hex don't need to overcome.
Will still be making good records in 2024:
At this point, is there good reason to bet against the almost-interchangeable parts machine that is Yes? There is: Chris Squire, their one constant and most exceptional player/ harmony singer, might die. But he hasn't so far, so hey.
Biggest musical trend of 2015:
The simultaneous surge of hipster interest in old-fashioned country music and woozy, bleary doom-metal will cause the genres to start to merge. Musically, that is, since Johnny Cash already wrote the first stages of the lyrical merger. Although it would be just as much fun if they merged and were still mostly about [post-apocalyptic] trucks.