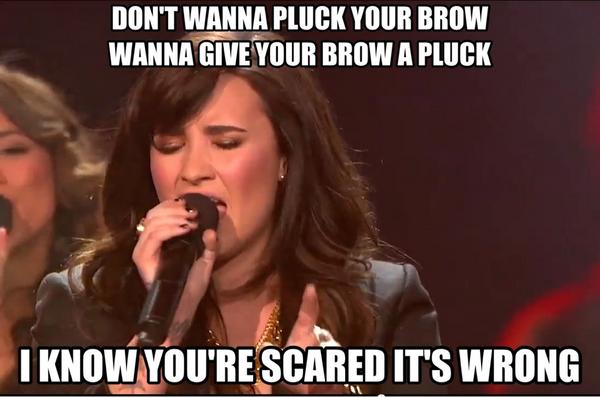 My prediction is locked in even if who I think is going to win isn't who I want to win. I'll be happy with either Carly Rose or Fifth Harmony winning. Tate Stevens somehow gets away with doing karaoke, but because they're country songs, no one calls him out. Actually, Fifth Harmony probably won't win because of X Factor karma for SIMON SELLING OUT EMBLEM3!
While I found season two a little on the boring side compared to season one, who I found most entertaining all season were Demi Lovato's eye brows and Britney Spears' facial expressions.
This one has to be my favorite:
I may or may not just randomly post Britney gifs throughout this blog. Shout out to one of the greatest tumblr accounts of all time, logically titled, Britney Spears Gifs.
Before we get going with the live blog …
8:01PM: Mario and Khloe are on a fake red carpet while the mentors come out for a quick interview.
The highlights:
– Khloe interviews LA Reid and she's only about 5 inches taller than him.
– Mario pulls Demi out of her automobile and she nearly pulls a Britney by almost flashing her underwear.
– Khloe talks to Simon and she compliments his chest hair.
– Britney gets the most cheers and has the least to say. That's how it's supposed to work.
– Pitbull walks down the red carpet and it took me until Khloe said "Pitbull" to figure out who he was.
– One Direction threw me off. I thought the Jonas' mother birthed two full-grown kids while we were away.
8:18PM: In a great host moment, Khloe nearly kills the punchline by laughing while Mario tries to introduce a segment that shows LA Reid conducting performances in the background. Khloe's the best and when I say the best, I mean the most annoying.
8:22PM: After an entire season where all Tate Stevens talked about was his wife, they put him with four sexy dancers for his Christmas song performance. He looked about as comfortable as a criminal in church.
8:35PM: I have so many questions about Fifth Harmony. Who is the lead singer? Which one is the prettiest? Are Normani and Arin Ray still dating? And why hasn't anyone else asked if the little one is related to Nicole Scherzinger?
8:45PM: In what had to have been for me, Mario and Khloe introduced a short video package with all of Britney's funny faces she made on the show. But they forgot to include her rockin' out to Vanilla Ice!
8:48PM: Carly Rose performed All I Want For Christmas Is You and it would've been fantastic if Mariah Carey came out, but then Nicki Minaj would've tried to steal both their shine.
8:53PM: Khloe just said, "The atmosphere is amazing in here Mario!" Hmmmm.
8:59PM: It's kill some dreams time. Taking third place is Fifth Harmony. I hope they give their hearts a break. They did much better than I thought they would. Maybe they can go back to being LYLAS? Or does Bruno Mars' sisters still own that group name?
By the way, how does Britney feel having Carly Rose in the top two?
9:08PM: Khloe and her leather long sleeved dress just interviewed Carly Rose's mom and she was able to look two directions at one time. She's scary.
9:23PM: Still trying to figure out if Pitbull should qualify for "special guest". It's the special part that I'm having trouble with.
9:27PM: Every time Mario talks about looking back at the season that was, my guess is that they're short on programming.
9:34PM: I totally get why One Direction is so over. However, if there was a girl group as goofy as these guys, they wouldn't work right? By the way, One Direction is not a good description of Carly Rose's mom's eyes. Her eyeballs go everywhere.
9:45PM: Carly Rose and Tate performed The Climb together. Of course Carly Rose sings in Tate's genre. Why couldn't he have performed Judy Garland with her?
9:54PM: Before they announce the winner of the show, Britney looks a little nervous. Maybe not as nervous as she was here, but still nervous.
And the winner is …
Tate Stevens
That one wasn't hard to call. Even though I found him bland and less exciting for a country artist than someone like Scotty McCreary, I think he'll still sell a few records. It will be harder for Carly Rose to sell records. Emblem3 and Fifth Harmony should do better than most of these show groups though.
Hopefully next year will be in one word, "Hot, hot, hot."
9:58PM: LA Reid wins. But it doesn't look like he'll be back to defend his title. He's already said he's not coming back next year. Who should replace him?
Well, it was another fun year of blogging singing competitions and no, I'm not going to start watching The Voice. But I'll be back in a couple months once American Idol starts up again. Mariah Carey y'all!
Peace out!