Artist: Squonk Opera
Album: Go!
I discovered Squonk Opera via their 1994 debut Howandever, when I lived in Boston and went to things called "used record stores". The band was called "Squonk Opera", so that caught my eye. Its instrumental lineup was vocals; piano/ keyboards; wind synthesizer/ celtic flute/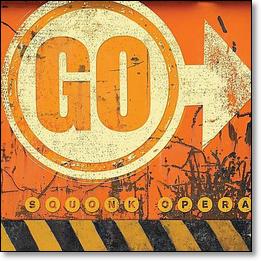 whistles/ sax; contraption kit/ rototoms; electric bass; tabla/ electric tabla. The players were additionally titled "prima donna", "kapellmeister", "impresario", "glocksonic", "basso buffo", and "percussionisto". First six song titles: Inside Height, Jole Du Frommage, hT cT, Drop The Words, the Unusual Mrs. Spitz, Dance Of The 7 Vowels. What the package suggested to me, aside from a mildly prog-rock lineup with a strong rhythm section, was a bunch of talented, imaginative people who hadn't decided whether they were *really* this godawfully pretentious, or just playing. I was right exactly, and Howandever delights me.Thus I became a fan, despite, for years, being unable to learn anything else about them on the web.
Eventually, come the 2000s, they released more records and made their info more available. Based in Pittsburgh, and led by keyboardist/composer Jackie Dempsey, they're a traveling, story-enacting multimedia roadshow. They scour grants (as theatre companies must and Laurie Anderson and David Byrne also sometimes must) from the Rockefeller Foundation, the Heinz Endowment, and government arts programs. The YouTube segments of their shows that they've put up seem ambitious and, though not subtle, often spectacular, in the literal sense. The music, meanwhile, continued to combine a strong background in pretty 19th-century classical music with rhythmic pulses from around the world, airy synthesizer dramatics, Autumn Ayers's pure and sometimes operatic vocals, some jazz saxophone now and then, and occasional goofiness. You are Here, from 2006, I've probably heard two hundred times, it being one of the albums I drafted to put my babies/toddlers to nap with over the following four years; its pulses and grace-notes are inscribed in my brain by now, and for me it's a masterpiece both beautiful and intricate enough to have never worn out its welcome. Follow-ups Astro-rama and Mayhem and Majesty — for new stage shows — kept them, stylistically, in either a groove or a rut. I enjoy both pretty well, so I'll say "groove".
Go!, then, is Squonk Opera's change of pace. Like the title, it is simplified and excitable. Shimmy and Shake leads the record with, of all things, a 3-minute 3-chord rock song: sinewy bass and assertive accordion, with Ayers's voice showing a new and potent soul-singer aspect. Truckstop Wardance builds on ominous, rumbling drums, Deep Purple organ, and fuzzy, distorted near-metal bass playing; it's a Modern Rock song, energetic sax solo or not. Maintain the Speed's drum-and-synth groove is fierce, and while it would ridiculous for me to suggest that Ayers sounds like Aretha Franklin or Janis Joplin on this track — she doesn't; she clearly doesn't ingest the kind of addictive fatal substances that would let her — she sounds a heckuva lot closer than we had any reason to expect.
The rest of the album sounds pretty much like Astro-Rama or Mayhem and Majesty, which should make Go! a strong and useful introduction for Squonk Opera newbies: I especially like Flip the Switch, Unwind, and Pulse. I might have ranked the album *very* high on my list if they'd fully followed through their makeover; I certainly enjoyed the experiment. But I can't fault a band with this many strengths for still, on the whole, playing to them.
– Brian Block
To see the rest of our favorites, visit our Favorite Albums of 2012 page!