RuPaul's Drag Race (Logo, Monday nights), which is just a few episodes into its fourth season, follows much the same template as other reality competitions like Project Runway or Top Chef. Skilled creative types are given a weekly challenge. In the end, there's the top 3 and the bottom 3 and there's a winner and there's a loser, and the loser gets the boot.
But RuPaul's Drag Race throws in one last speed bump on the road to elimination, a chance for one of the week's bottom two performers to redeem themselves in the eyes of their drag mama RuPaul: Lip Sync… for your Life. At worst, this is a just a way to mark time before we learn of RuPaul's final decision. But occasionally, one of the queens delivers a performance that is, well… life-affirming (seriously!), transcending its context and completely validating lip-sync as a high art form.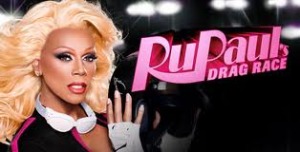 This week, drag queen Dida Ritz, along with rival The Princess (who, strangely, decided to rock chemotherapy-chic this week) was up for elimination. With guest judge Natalie Cole looking on, the two queens took the stage to lip sync Cole's 1975 hit "This Will Be" (aka "The eHarmony Song!") and Dida Ritz not only didn't "f*ck it up", she very nearly stole the song from its originator for good.
It helps that Ritz bares some passing resemblance to Natalie Cole, but that's just the gravy. It was her lip sync itself – not her look – that not only saved Dida from elimination but, in the space of a couple of minutes, made her look like a frontrunner in this season's competition.
She absolutely embodied the song; she owned it as if she'd written it herself and her dance moves and expressions seemed such a natural extension of the music that it made me feel like I was hearing the song for the first time – no small feat considering how ubiquitous the song has become in recent years thanks to Dr. Neil Clark Warren. Almost as fun as watching Dida Ritz, is watching Natalie Cole watching Dida Ritz! It's the happiest three minutes of TV I've seen in ages.
Sadly, Logo hasn't posted an isolated clip of the Lip Sync for Your Life segment of last week's episode. But if you don't want to watch the full episode (although you really should because the show's sorta awesome), fast forward to the 38 minute mark: