Artist: Regina Spektor
Album: What We Saw from the Cheap Seats
Regina Spektor plays piano reasonably well, and has a breathy but flexible singing voice fond of chirps, coos, swoops, creative weird mouth noises, and really awkward melisma (switching notes mid-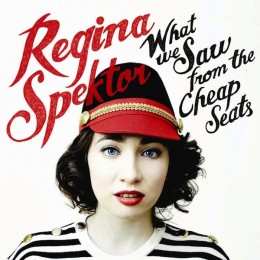 syllable). My family and I adore her, and she's had chart success, mainly with Fidelity from 2006's wonderful Begin to Hope, but I can imagine why her songs could drive someone batty. Her strengths are childlike, even though her topics aren't. She hops between specific observations — some mundane, some clever, some bizarre — and well-meaning offers of universal truths she worked out yesterday and hopes you'll like. I think many of her juxtapositions hold up extraordinarily well, but people have told me she strikes them as too cutesy, or too obvious.
What We Saw from the Cheap Seats has evidence for all sides, perhaps. Consider the ultra-perky Ne Me Quitte Pas (Don't Leave Me), piano mostly replaced by some bubbly sound patch like a vibraphone but much cuter, plus fake drums and a horn section. "Down on Lexington, they're wearing new shoes stuck to aging feet/ and close their eyes and open, and not recognize the aging street/ and think about how things were right when they were young and veins were tight/ and if you are the Ghost of Christmas Past, then won't you stay the night?" … to me, that's a heckuvan empathetic verse for someone herself still young and pretty, and I also end up liking the next verse, even though it's set in "the Bronxy-Bronx".
Or consider All the Rowboats, the insistent, percussive, darkly atmospheric musical successor to Apres Moi, Edit, and Machine from prior albums. I'm an instinctive animist, so it could be written for me: "All the rowboats in oil paintings, they keep trying to row away/ and the captains' worried faces stay contorted, staring at the waves… First there's lights-out, then there's lock-up, masterpieces serving maximum sentences/ It's their own fault for being timeless; there's a price to pay, and a consequence… But the most special are the most lonely. God, I pity the violins/ in glass coffins, they keep coughing. They've forgotten how to sing". I still like museums; I'm a lot sorrier for the 90% of the New York Metropolitan's collection that's not on display at a given moment. It's a great song topic either way.
It slots well with the more typical concern for a friend on piano ballad Firewood, where the urgings "Everyone knows you're going to live, so you might as well start trying" (and later "Love what you have and you'll have more love/ You're not dying./ Everyone knows you're going to love/ though there's still no cure for crying") fit around the acknowledgement "Someday you'll wake up and feel a great pain/ and miss every toy you've ever owned". Me, I just miss the stuffed animals. The eyes; they're what get ya. Friends usually have eyes too, the bastards.
When Regina Spektor tells a friend — on the brief Phil Spector-ish pop-orchestrated the Party — "You taste like birthday, you look like New Year/ You're like a big parade through town/ you leave a mess but you're so fun", well, that's somewhat how I envision her. It means I don't appreciate, from her, a well-crafted but generic pop-jazz lost-love song like How, and that I prefer Patron Saint's jaunty piano and kick-drum to its vague pains-of-true-love musings. In terms of content, half of What We Saw from the Cheap Seats feels slight to me, by Spektor's standards. It's also her most stripped-down set of arrangements since 2005's Soviet Kitsch or before, though that's not a quality judgment. But "by Spektor's standards" is the kicker. I really like Regina Spektor albums. This was true before, and remains so.
– Brian Block
To see the rest of our favorites, visit our Favorite Albums of 2012 page!