Artist: Mars Volta
Album: Noctourniquet
I'll start with a quick review for those already familiar with Mars Volta. Noctourniquet (their sixth album) is their first with song lengths averaging under five minutes, jettisoning the lengthy solos and ambient excursions. Its dark lyrics are, on average, the least obscure / most randomly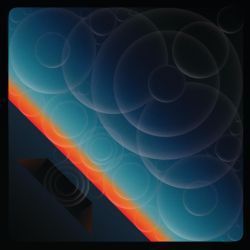 effective of their career. Its drumming, with new drummer Deantoni Parks, is a bit more straightforward, sometimes pounding home the various time signatures instead of fracturing them. And the new layers of synthesizers, often pleasant, also sometimes add a level of batshit abrasiveness that I'm delighted to have in such concise doses.
For everyone else, I already dropped some clues, but let me fill in the picture more. Noctourniquet in many ways strikes me as a much weirder, geekier (and at 64 minutes, shorter) version of Smashing Pumpkins' Mellon Collie and the Infinite Sadness. Guitarist Omar Rodriguez-Lopez doesn't play everything on the album as Billy Corgan did on his, but he's reputed to be a dictator to the top-notch players he employs. Singer/ lyricist Cedric Bixler-Zavala has, like Corgan, a voice that's flexible but high-pitched; where Corgan's was often tinged with an adolescent whine, Bixler-Zavala's is more prone to the whine of an artificially intelligent dentist's drill that wants you to understand it doesn't like you. Both singers can convey their melodies, though, and Bixler-Zavala has also begun, on many tracks, to sound like the more recent, mellow, gravitas-possessing version of Rush's Geddy Lee.
When I pick some individual tracks to describe, one of my motives is to help you choose, in this YouTube/ iTunes age, a place to start exploring if you're not ready to plunge in right away. Noctourniquet, like Mellon Collie, divides neatly into harsher and prettier songs (although Mars Volta never quite play the difference straight). Want to start at the aggressive end? The Whip Hand reminds me of the most fiercely and erratically writhing Nine Inch Nails tracks (March of the Pigs, the Becoming), except with Reznor's voice replaced by that of a heavily-echoed arena rock singer. Its "I am a land mine! Don't step on me!" bridge risks being the most off-putting moment on the album for you, but you may well be impressed by how little you're inclined to doubt the sentiment. (Unlike my Autocorrect, which tried to turn it into "I am a land line".) Dyslexicon is like one of Rush's more straightforward rock tracks being strafed by video-game weaponry, haunted by singing poltergeists, and subjected to occasional wobbling. The Malkin Jewel is like a restrained rock translation of the bizarro-land blues of Captain Beefheart, although Bixler-Zavala also reveals a new, gruff, threateningly conversational singing style in the verses, leading up to the chorus where "All the traps in the cellar go clickety-clack, cuz you know I always set them for you/ And all the rats in the cellar form a vermin of steps, yeah, you know they're gonna take me to you".
Pretty tracks include Aegis, thoughtful and massive, maybe equal parts Arcade Fire, Spiritualized, Catherine Wheel, and giant drum collection falling down the stairs, which launches into a slamming riff-rock chorus in 3/4 time. Lapochka is at once the closest they've ever ventured towards laptop-pop, and the most they've sounded like Shine On You Crazy Diamond-era Pink Floyd. In Absentia skitters and echoes across the nave of the church while you wait in the atrium; it's part power ballad, part Giorgio Moroder Eurodisco, part maybe a hymnal re-capturing of In-a-Gadda-de-Vida. Imago, folk guitar plus long-held synthesizer notes and intuitive intrusions of thumping drums, highlights Bixler-Zavala's least guarded singing, plain and a bit unsteady but easy to like. Zed and Two Naughts (fancy way of saying "zoo") is an ambitiously constructed, soaring rock anthem.
Noctourniquet is easily my favorite Mars Volta record. They've always played well and had interesting ideas, but this is their album of songs, and I for one am fond of songs — especially when I feel they're squeezing an especially wide range of interesting ideas into them. It could as logically be some Mars Volta fan's least favorite. If there's a track here you don't like, it'll be over in a few minutes. Perhaps that feels like cheating; I understand.
– Brian Block
To see the rest of our favorites, visit our Favorite Albums of 2012 page!