Artist: Magma
Album: Felicite Thosz
I present to you the following inside look, in internal-dialogue form, at my annual album ranking process:
"Wow, 2013 has been an incredible year for progressive rock. So many albums full of brilliant, dynamic, adventurous-yet-melodic playing — so many albums where I don't have a clue what the singers are on about, and I don't need to because they aren't even what sticks in my head".
"Yeah, but if you cram those reviews in towards the end everyone will get bored reading them".
"So, uh… you want me to start writing them early? Rank one at #27 or something?"
"Yes."
"But which?"
"Magma's Felicite Thosz."
"Why them? How can the grandeur of Bruno Ruder's piano playing, or the symphonic dynamics and subtle production of Christian Vander's drumming, deserve that? What can I possibly say against an album of lovely classical/ choral vocals — and occasional lovely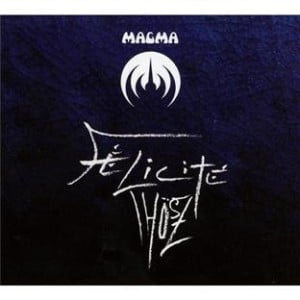 wacked-out gibbering — in a *made-up space language*?"
"You could say it's only 32 minutes long."
"THOSE BASTARDS!"
"Also, Magma killed Kenny."
"Well, they're French. You can't expect them to have the exact same child-rearing values we have in the U.S."
Felicite Thosz is structured as a single 28-minute piece of music (plus a 4-minute coda). I like the fact that the main song is divided into ten cd tracks, because it helps me mentally store what's happening: Ekma leading off as if Queen had been deranged Muppets singing opera; Teha an especial showcase for Stella Vander's gorgeous voice; Waahrz giving Ruder a variety of genres in which to quickly demonstrate his piano excellence; Tsai! choral like the holy church of racing-through-the-village-overturning-things; Ohst letting vocalist Herve Aknin take the lead in a four-way sung conversation like a rollicking would-be Broadway number. I wish all really long songs included such thoughtful artificial separations. But it *is* a long song, marvelously structured to be played through as is. Even the unconnected les Hommes Sont Venus makes sense as the album's conclusion, a gentle fugue-structured letting go.
For those of you with prior awareness of Magma's work — their first album was released in 1970, and bandleader/ drummer/ singer Christian Vander was 64 when Felicite Thosz was released — I will say that they've changed. Felicite Thosz is more composed, more classical, less jazzy, prettier, and happier than anything I've heard from them before. Obviously, a lot of people like their weird music to be dark and chaotic and loopy; Magma have produced a lot to fulfill that desire in the past, and praise to them for it. In 2013 they tried this instead. Personally, I think progress towards joy is a heckuva way to race into old age.
– Brian Block
To see the rest of our favorites, visit our Favorite Albums of 2013 page!