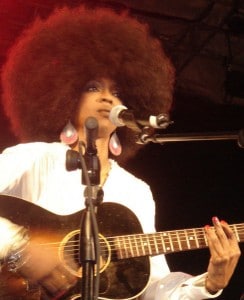 To many people, Lauryn Hill is one of music's biggest mysteries. She was on top of the world and just walked away. There were stories of her private life that may have changed your viewpoint about who she was. But really, the question was why. Why did she walk away from music when she was at the top of her game?
In 2003, journalist Toure filled in some of the story for us with his memorable Rolling Stone article. If you haven't read it yet, please do. It's a must-read.
On Wednesday's Fuse show The Hip Hop Shop, Toure had his chance to interview L-Boogie. She was performing over the weekend at Rock The Bells alongside The Wu-Tang Clan, A Tribe Called Quest, and Snoop Dog. She finally had some answers for us.
Some of the reason she left had to do with her children. She wanted them to have normalcy and privacy and real childhoods. But she herself wanted out of public scrutiny and wanted freedom and needed to be able to reclaim her individuality. She also said that she's ready to express herself again.
But this quote might have summed it all up best:
You have to live life so you have something substantial to share, or it's kind of pointless.
She seemed at peace and no, she didn't seem crazy. I jokingly tweeted Toure to ask him if he was able to look her in her eyes and call her by her first name. That was a recent story about her behavior. He didn't answer me, but he answered someone else that there was none of that going on.
He did ask her what everyone wanted to know. Would we be able to hear a new album? She was a little indecisive at first. She promised new recordings, but wasn't sure about a new album. But she also implied that maybe there was also a new album on the way as well.
Here's a short clip of her performing at Rock The Bells:
Photo of Lauryn Hill shared via Wikipedia through the Creative Commons Attribution 2.0 Generic license.