Artist: Kobo Town
Album: Jumbie in the Jukebox
If you'd asked me a year ago if I like calypso music, there's a fair chance I'd've said "Yes". At which point you could've asked me what calypso albums I owned, and I'd've paused, blushed, and given you the following full list: the Essential Harry Belafonte. Even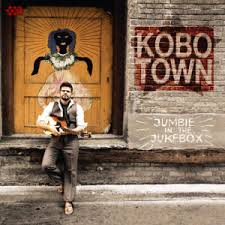 there, I'd've had to admit that my fondness for Harry Belafonte stems less from the album (which is indeed very fine) than from his human rights activism, his sense of humor, and especially his singing of perhaps the Muppet Show's two greatest musical numbers: their funny skit-centric take on the Banana Boat Song (Day-O) and his solemn, intense, charismatic performance of Turn the World Around. Calypso is distinguished by its swaying, Caribbean-feeling rhythms, its openness to congas and bongos and steel pans and cowbells and Spanish guitar, its horn sections with their own swaying rhythms, and … well, for those of us who are totally inexpert, by singers with thick Trinidad accents. And now, thanks to Kobo Town's Jumbie in the Jukebox (which means "spooky and/or amusing dead person haunting a machine that plays songs from a menu when you give it money") it's distinguished by being a genre I own *two* albums in. Of what must be the highest Average Quality Per Album for any genre in my collection.
Drew Gonsalves, Kobo Town's Canadian-by-way-of-Trinidad singer /songwriter/ guitarist, has a limber, lilting voice with pretty good singing range and the agile rhythmic half-melodic sense of an excellent rapper. He also has a strong social conscience, writing protest songs rooted in stories of individual people. Mr. Monday is a schizophrenic who lost his family when his mental illness arrived and now collects bottles in order to dance with them awhile before recycling them. Joe the Paranoiac might be listening all day to Rush Limbaugh or Alex Jones, to Fox News or the John and Ken Show, but he finds his meaning in bizarre rumors, surely deserves pity for the ways he's manipulated, and would be easy to sympathize with if he wasn't a 50/50 shot to report you as evil to the appropriate agencies. Half of the Houses recounts what happens to a town when everyone who wants to make a decent living (Gonsalves included) has fled far away — which doesn't mean they don't miss each other. Indeed, Diego Martin remembers his goodbye to his hometown.
Road to Fyzabad moved beyond personal perspective, but not by accident: it recounts a worker uprising that had power only because *many* individuals put aside their background and racial differences to stand up for a chance to retain the wealth they all worked each day to create. (The uprising was only defeated because *many* individuals put aside similar differences to gun them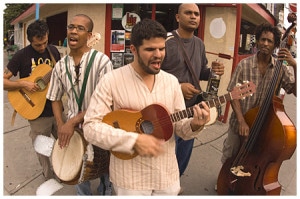 down together as British Royal Marines.) The War Between Is and Ought is mythical; the Call is mystical; Tick Tock Goes the Clock is both. The music tends to be unfailingly pleasant — even as Is and Ought "each rained fire down on field and town/ to prove the other wrong", the trumpet and guitar each get especially nice and imaginative solos, while Tick Tock's apocalypse is a head-bobbing, shaker-driven dance song with squawky guitar. Postcard Poverty's delightfully acrobatic chorus is about a Western tourist visiting the ghetto in search of stories to tell. It's not that Gonsalves isn't angry, or cynical about his country's status as a "petroleum paradise" (with one of the highest GDP-per-capita economies in the world, yet little electricity outside the cities, few paved rural roads, and regular water shortages). But the Caribbean nations had centuries of being slave-majority populations, and while that's a horrible existence — one of being robbed for a living — there comes a point, after the crushing peaks of planting season and before the worst of the harvest, when even a slave invents a time and some reasons to smile and dance.
What Kobo Town's Jumbie in the Jukebox reminds me of, more than anything, is the last few Bob Marley albums, Exodus and Survival and Uprising. Gonsalves is actually a better lyricist than Marley, more specific and a better sketcher of character, and the differences between reggae and calypso (or Trinidad vs Jamaica accents) are, to my ears, more subtle than the overlaps. I wouldn't rate Jumbie in the Jukebox quite equal with Survival at the moment; possibly because its horn section is sparser, less emphatic (although Gonsalves's excellent guitar work is a counter-argument). Possibly because where Gonsalves's voice is slightly lower and smoother, Marley's still had an unmatched passion. Or then again, possibly just because I've known the songs on Survival for more than twenty years. Which someday, I hope, will be true of Jumbie as well.
– Brian Block
To see the rest of our favorites, visit our Favorite Albums of 2013 page!