Artist: Joan Armatrading
Album: Starlight
Joan Armatrading, who released her debut album in 1972, has had an impressively varied career. Starting with generic folk-pop elevated only by her soulful voice, she grew to experiment with Elton John-style rockers, disco, reggae,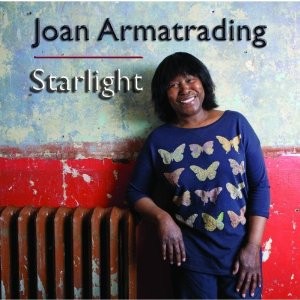 collaborations with Springsteen's E Street Band, perky New Wave synth-pop, and — as her voice got deeper and richer — into roots-rock and blues. Starlight shows her still venturing, now into jazz-pop that sounds like the work of an extremely impressive late night combo … except that apparently she played every instrument herself. (Presumably using lots of overdubs, although it's an even better story if she played the whole thing live using six extra robot arms. I think I'll leap the album up about thirty ranks if I discover that's the case.)
Starlight has, for me, a bit of a 1980s feel. By this I mean (1) her synthesizers, when she uses them, feel like that era of Hall and Oates or Donald Fagen; (2) the fact that her drum programming, while imaginative and excellent, still sounds a bit artificial; (3) that Back on Track and I Want That Love sound like perfectly plausible hits from MTV's early years; and (4) that sometimes her playing reminds me of Sting's '80s jazz-pop band, and just as often of Rowlf the Dog sitting in with Dr. Teeth's Electric Mayhem for one of their subdued, moody performances. Unlike any of those comparison points, though, she's every bit as comfortable with 5/4 time as Dave Brubeck's quintet, not to mention 6/8 and some rhythms that I *think* add up to a nominal 8/8 but in very strange ways. This lends songs like Tell Me, Always on My Mind, and I Want That Love a delightful off-center swing.
Her voice, a rich smoky contralto that can rise into an assertive yelp that's still utterly graceful, would work in any era. Her songs are relationship songs, and would read as a series of cliches (which is a loss, as much earlier albums like the Shouting Stage often worked quite nicely on paper). But as delivered, they come off as honest and reflective songs about loneliness, lust, giddy new crushes, and romantic expectations. Tell Me is a platonic love song to a lifelong best friend, and is my favorite song here, in part because it's a much rarer topic. But felt emotions hardly ever break new ground, so it's silly to demand that all songs do. Joan Armatrading's take on small-combo jazz is a new adventure for her, a new adventure in music made by octopi, and has a distinctive enough sense of rhythm to be at least a little bit new in the world. As well as being a very fine heaping of old.
– Brian Block
To see the rest of our favorites, visit our Favorite Albums of 2013 page!