I'm sure this wasn't just me. Did anyone else think Alison Moyet was a guy upon listening to Yaz's 1982 album "Upstairs at Eric's". Moyet was blessed with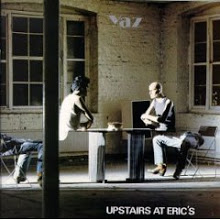 quite possibly the most androgynous voice of all-time. What's up with British singers and androgynous voices anyway? Boy George? Annie Lennox? Geez. There must be something in the water across the pond.
Anyone who considers synth-pop emotionless has obviously never heard Moyet sing her ass off on "Upstairs at Eric's", the first of two collaborations between her and Depeche Mode founder (and future member of Erasure with yet another androgynous singer in Andy Bell) Vince Clarke. The collection of songs on "Eric's" contains enough drama to have any petulant schoolgirl singing in her hairbrush for months on end. "Only You", the album's only real ballad, brings that sense of drama to a majestic climax. Despite the wall of synthesizers, the only thing that really matters is the melancholy of Moyet's voice. She could be singing this acapella and the song would be as emotional.
Despite Yaz and "Eric's"' lack of mainstream attention upon its' 1982 release, both the album and "Only You" have become cult classics over time. The song's been covered by everyone from Rita Coolidge to Enrique Iglesias, while it's also popped up in several movies and commercials over the years. Still, it's unlikely that anyone will come close to the soulful longing as portrayed by Moyet in the song's original version.