Artist: Hidden Masters
Album: Of This & Other Worlds
Of This and Other Worlds, the 2013 debut of Glasgow's Hidden Masters, would have slipped nicely into some record label's 1971 release schedule. Something like Love's Forever Changes crossed with the Who Sell Out, with extra doses of Odessey and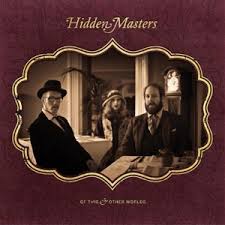 Oracle vocal harmonies and the loudest Beatles and Thirteenth Floor Elevators riffs and mysticism, it is unembarrassed psychedelic retro, and it is *really good at it*. My ranking it at #40 serves only as a reminder, first, that all my rankings are compliments, and second, that if you care more about classic rock more than I do, you might rank it way, way higher.
Opening track She Broke the Clock of the Long Now shows off quite a few of their tricks in 4:39: fierce-but-catchy flanged guitar, agile tempo changes, fast solos, sharply-composed vocal harmonies (behind the confident, smooth lead vocals of David Addison), a slowed-down spacey bridge. Into the Night Sky kicks off with rapid, perky folk-rock, works in Procol Harum organ, slows down into a drum/ piano/ wavery-bass workout (highlighted by more vocal harmonies), jumps back into double-time, then almost immediately delves into a-cappella, then tricky rhythm changes; seems ready to return to the slowed-down bit, but instead lets everyone stand aside for a proto-Black Sabbath guitar solo; jumps into spy-chase music; and winds back up at perky folk-rock. Perfume is, on average, slower and grander (it still shifts around a lot), and makes extra-sure you notice how good a drummer John Nicol is and how much he enjoys echo.
See You in the Dark plays a Lovin' Spoonful cheerfulness at extra velocity. Like Candy is a different side of Lovin' Spoonful, their gentle bubblegum pop, done Hidden Masters style — which means it detours into something more like an Everly Brothers duet, perhaps if they'd been produced by someone tripping, and then into something a bit like the Archies trying to make Immigrant Song, then into clean-cut finger-snapping college a-cappella group in front of the Byrds' instrumentalists or something. Grey Walls Grey brings the syncopation and the organ and even more enthusiastic harmonies than usual; Fall in Line, while on average rather dignified and stately, keeps bringing in new ideas for almost six full minutes. And none of the variation is in the show-off-ish Bohemian Rhapsody/ Mr. Roboto style; all the songs on Of This and Other Worlds can pass for standard first-wave psych-rock, until you make yourself wonder "How did we get here from *there*?"
I can imagine someone having no interest in classic psychedelic pop-rock. I can imagine someone who *does* like classic psychedelic pop-rock finding it inherently ghoulish for a band of young men to never once draw on a single muse more recent than the first three Blue Oyster Cult albums. Still, either of those attitudes would be a pity. If you're not stuck with either, then the Hidden Masters, within the chosen confines of those old forms, bring a surplus of abilities, fresh ideas, harmonies, and hooks into the open.
– Brian Block
To see the rest of our favorites, visit our Favorite Albums of 2013 page!