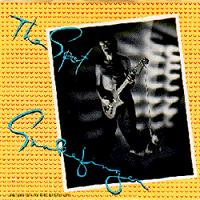 SNAKEFINGER  "The Spot" b/w "Smelly Tongues" (Ralph Records RR7805, 1978)
"BUY OR DIE!!" screamed the 16th-of-a-page, black & white ad from the back pages of my beloved new issue of Crawdaddy.  Or was it Creem?  Circus?  Trouser Press!  Well who knows…time wipes that stuff out of your memory.  I do remember, after devouring a 3-page Burroughs interview, clipping the little coupon and sending a crisp dollar bill to Ralph Records in San Francisco.  For what exactly, I didn't know.  But it arrived a few weeks later in a thick cardboard sleeve:  Buy Or Die #1 was Ralph's first 4-song sampler, and it was pants-shittingly good.  But that's a story for another time, when I grab it randomly from the big red cabinet.  In the meantime…
One of the four tracks featured on Buy Or Die #1 was by a mysterious (well, this label was owned by The Residents, so all these Ralph artists were pretty fucking mysterious!) fellow named Snakefinger.  The track blew me away so thoroughly that I immediately plowed through the accompanying catalog to order all the Snakefinger I could afford.  In a few weeks, I had my grubby little paws on his masterful Chewing Hides The Sound LP and this fine 7″ of "The Spot."
Pressed on a clear blue vinyl that's very easy on the eyes, "The Spot" is 3 minutes of pure sonic attack.  Beginning with what sounds like an unplugged electric guitar (possibly a hollowbody, possibly detuned) pounding out a F/G/Ab/F base riff, the track explodes with swelling, snake-like guitar lines when the bass & drums (provided by The Residents, of course) kick in.  Who sez The Pixies invented that soft/loud thing?  When the solo bridge comes around, look out kiddies…it's got enough multi-tracked Snakefinger slide-guitar to drive your mom straight to the asylum.
The B-side, a ripping cover of The Residents' classic, "Smelly Tongues," is ultimately a chance for The Finger to flip out on some truly sinister LSD-addled slide guitar over the eyeballed-ones' pulsating, palindromic E-F-G-F-E bass figure.  A room-clearer if there ever was one, the track begins with some mumbled talking, then ends real abruptly just past the 2-minute mark with more mumbling, leading me to believe that this recording was an outtake, or maybe from a rehearsal tape.  But who cares?  Brilliance is brilliance.
Anyway, I ultimately discovered that Snakefinger was actually British multi-instrumentalist Phillip Lithman, who had fronted several blues and pub-rock acts years before.  His tenure with The Residents was short but prolific, leading him to assemble his own group and delve deeper into avant-garde rock and blues.  And then, in the summer of 1987, before the world could grow up enough to really appreciate him, he died of a heart attack.
The world still has yet to catch up.  Rock on, Phil.
NEXT WEEK:  Some fine Carolinians who arrived early to the alt-country party, then left us wanting more.