Artist: Cold Crows Dead
Album: I Fear a New World
Cold Crows Dead, as evidenced on their debut I Fear a New World, play mostly-pretty music of a polyglot form that's become modestly popular in indie rock circles. Most of the songs — we'll get to the exceptions — combine the sort of creatively-processed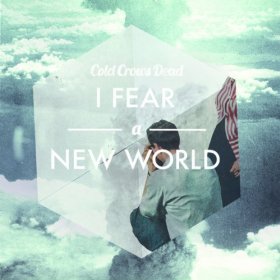 flutes/ violins/ piano/ etc orchestration that dates back to Pet Sounds; with synthesizers that convey an eerie analog feel more akin to early BBC Radiophonics experiments than to the Human League or New Order; with the mildly skewed rock energy and high, whiny, slightly-croakish male vocals popularized by bands like Pavement.
As a combination it compares, in case this helps, to Flaming Lips's Soft Bulletin-through-At War with the Mystics phase; to Grandaddy/ Jason Lytle, especially Under the Western Freeway; to Sparklehorse's periodic higher-energy songs; and to Cloud Cult from the Meaning of 8 to the present. In my opinion I Fear a New World is superior to any Flaming Lips (or Grandaddy or Sparklehorse) album. Not for any deep reason, just that I think Flaming Lips are a really interesting, rightly acclaimed band that's prone to a few terrible and/or bland ideas per album, while Cold Crows Dead fully justify each of their album's eleven songs with specific cool ideas and good tunes. Also, without suggesting that Murray MacLeod is a natural singer in any way, he sounds exactly like Wayne Coyne would if Wayne Coyne hit all his notes, and that would be a nifty new thing unto the world.
At its most graceful, I Fear a New World sounds like a sung negotiation with a choir of sad robots while a strolling waiter provides violin accompaniment (Ghost That Burned Your House Down); or empathetically miserable piano balladry that turns semi-anthemic (Scarred and Thoughtless); or a warped lush take on waltz-time '50s slow-dancing (Screaming at Shadows); or like UFOs eventually rousing one of the more echoey tracks on the Cure's beautiful-depression opus Disintegration (Gone) (I first called it the Cure's "magnum opus", but it ain't carrying no firearm, just a small knife sharp enough to gash a co-operating wrist).
Deadheads and Killer Party trade a small amount of grace to get back a large enough injection of rock music that we can guess Cold Crows Dead don't mind listening to Pixies albums, even if on shuffle with Brian Wilson's Smile. Men in Bleak is an experiment: slow and massively echoey, big goth bass riff swaggering in the background as slam poet Stephen John Kalinich orates, alternating with MacLeod's most ragged, insistent, angry singing. Hold It Together is another experiment, a shuffling dance tune in 7/4 time where the sing-song urgings are mild intrusions over long-held vocal notes that dissolve meaning into pure sound. My Shovel is either an experiment or a gag, with its periodic unraveling into Limp Bizkit style roaring about "My shovel! My shovel!"; it makes me giggle happily.
I didn't mean to do the song-by-song description thing, but it ended up fitting my point: Cold Crows Dead haven't invented anything new, yet, in the indie rock world. Sad, lush, pretty, sorta rock, sorta weird: that's been done before. But in eleven songs, I Fear a New World presents eleven different reasons for doing it again. I'd hate to be so jaded that this wouldn't delight me.
– Brian Block
To see the rest of our favorites, visit our Favorite Albums of 2013 page!