I'm no fan of Stephenie Meyer's books, or the movies they're based off of. I'm not really into vampires and werewolves. But I get as woo-hoo excited as a TRL teenage fangirl every time a new Twilight movie comes out. It's not because of Robert Pattinson's gravity defying hairdo or Taylor Lautner's sculpted abdomen and dark, forbidding gaze. (Truth be told, I had to look them both up on Google just now to make sure I had their names right.) It's about the soundtracks. The soundtracks to these movies are amazing!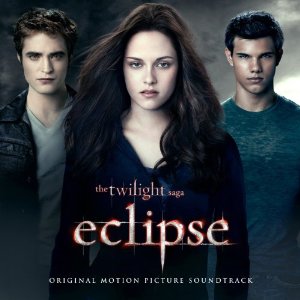 Like John Hughes's movies in the 80s, the Twilight movies draw their music from a collection of artists that could conceivably appeal to a pretty broad audience, but at the same time, are still mostly championed by the alterna-kids and that endangered species known as the record store employee. In the 80s, that meant bands like Oingo Boingo, Madness, Spandau Ballet, Nick Heyward, the Dream Academy, the Thompson Twins, Paul Young, Wang Chung, and Simple Minds – few of whom scored more than a couple of hits, but whose legacies have largely survived the reflexive 80s hating. A lot of these artists' songs are more celebrated now than they were back when they were (almost) "popular".
Though each of the Twilight movies' scores so far have been written by different composers, the aesthetic of the soundtracks has been remarkably consistent, and consistently thrilling. The British band Muse (who basically sound like Radiohead, only un-evolved since 1995) have appeared on all three Twilight Saga soundtracks so far, but each album features an increasingly diverse roster of the artsy cool. Though the first soundtrack trafficked more in mainstream modern rock artists like Paramore, Linkin Park, and (oh yeah) Perry Farrell, the second two have gotten more daring, bringing fairly well-known indie acts like Death Cab for Cutie, Metric and Thom Yorke, together with folks like Swedish pop chanteuse Lykke Li, rapper Lupe Fiasco and the British band Fanfarlo.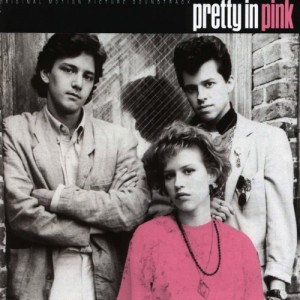 But the Twilight Saga soundtracks do John Hughes one better. Where Hughes' movies often licensed existing songs for the group's catalogs (Simple Minds "Don't You Forget About Me" and Oingo Boingo's "Weird Science" being the big exceptions – Psychedelic Furs re-recorded a song they'd released years earlier for the title song of Pretty In Pink), the songs that appear on the Twilight Saga soundtracks are most often originals written and recorded specifically for the soundtracks. You won't find Editors' gorgeous piano ballad "No Sound But the Wind" from New Moon on the band's new studio record (In This Light and On This Evening) which came out right around the same time. And the thing is, "No Sound But the Wind" wouldn't have worked on the Editors' album anyway – not just because it's miles better than even the best parts of In This Light (this is, sadly, true) – but because it truly belongs with the rest of the songs from New Moon. More than anything else, these records are special because they sound like they were actually conceived as unified albums – not just a cross-promotional collection of songs by Today's Hottest Stars, all K-Tel style; and the songs are quality – not just out-takes or throwaways – and they're bound together not just by the subtextual narrative of the movie, but with a common sense of atmosphere and evocation.
The latest Twilight Saga soundtrack, for Eclipse, has already delivered videos for songs by Muse and Metric. One of the latest is by Cee-Lo Green, the former Goodie Mob rapper turned retro-funk freak solo artist before teaming up with producer Danger Mouse to form Gnarls Barkley (whose 2007 debut hit "Crazy" essentially became the first pop standard of the 21st Century). On "What Part of Forever", he sheds much of his signature flamboyance – in fact, he sheds his hip-hop persona altogether – singing a lyric about making life-altering choices over chiming guitars, a rhythm that rolls like stage-coach wheels, and a melody straight out of the sunny California folk-pop sound of the late 60s – a beautiful song for late summer.