Artist: BidiniBand
Album: In the Rock Hall
BidiniBand are a skilled heartland folk-rock band a la Neil Young & Crazy Horse's Freedom/ Ragged Glory mode. Not the vocals, mind; almost 50 years old, novelist/ journalist Dave Bidini sings with a boyish clarity and enthusiasm Neil Young didn't have even at 20 (let's face it,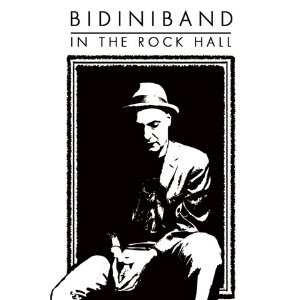 Neil's last name always seemed ironic). But BidiniBand aren't trying to sell originality in their power-chords, their acoustic picking, or their 4/4 time, although they're fluid and sometimes imaginative players with an excellent sense of dynamics. Tom Petty & the Heartbreakers have made albums not far from here, as have Jason & the Scorchers, as have John Mellencamp & the Unmentioned Sidekicks. In the Rock Hall fits a sing-along tradition that I grew up with; what that will mean to you is yours to guess. I do think it's an outstanding example of its form.
There's depth here, but most of the songs have a for-fun vibe. The Best Thing about the '80s was You, two minutes of guitar-pop with cheesy drum-machine and robotic voice processing, is entirely goofy, but "Meet me on the corner at a park after school/ We'll synthesize minds" still sounds good to me at my own advanced age. Hey Paul and Donna is as casual and harmonized and pretty as Peter, Paul, and Mary's children's album, goofily rhyming its title with "Glad you took the train to Torontuh" and "Let's get high and smoke marijuana". You'd almost miss its sympathetic summary of parenthood: "First they got married, then they had a kid/ then they had another, they don't know what they did/ a toy-bomb exploded in their bed/ raccoon eyes and a weary head" — or the song being written to express "You picked me up when we were down/ Now I'm happy that you're around". Popcorn has elegant guitar filigrees from the very start, but Bidini's singing trawls along with lazy good cheer and nostalgia: "Ever since I was a young boy, I played the silver ball/ from Soho down to Brighton, yeah, I must've played them all…/ I'm a juvenile product of the working class/ my best friend lives at the bottom of a glass/ of popcorn!/ Give me some popcorn". When an angelic female chorus takes over the song – and then Bidini takes over their words for his own committed take on them — it evolves into a paean to love and belated responsibility. Which has more power, I think, emerging from the jolly half-assedness it began with.
Needle Beach/ Outboard Motors goes from easy strums to punk-folk aggression, while Big Men Go Fast on the Water evolves in stages from ominous guitar pointillism to rousing folk-rock triumph to urgent fury — each features an excellent guitar solo from Paul Linklater. Each holds onto adolescent refusal to accept wrongness: "Reality's out of reach/ all the things they preach, you don't believe". "I keep fighting, fighting for more/ and mourn for the waters before./ On Sundays, they close the store/ you can't go swimming cuz there's swimming no more". "Captain smiles as he swallows his last/ It's midnight for the graduating class/ impressions won't last, it'll be about money". "I'll take the wound, stay out of reach/ the poison water laps at your feet".
BidiniBand are proud of that refusal. Last of the Dead Wrong Things is the dark-sounding track here, with Linklater's most adventurous playing, and one of the best: starting "I drove all night, from dark to light, to bury you", it envisions Canada's full emergence into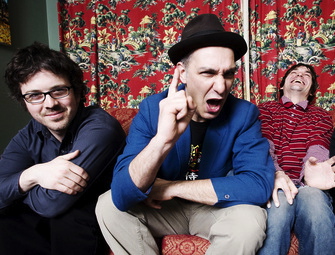 fascism, with rebels from teens to striking fisherman being shot dead to shut them up. BidiniBand don't imagine they could stop such a thing: "We're just a two-bit rip-off Neil Young attack/ We stole this song, now we're stealing it back/ doesn't matter how good or bad you can sing". But if a nation is overrun by men who view both people and the earth itself as nothing but short-term resources, "What kind of love do you bring?" is a necessary challenge to make.
I've gotten this far into my In the Rock Hall review without explaining that Dave Bidini used to be one of the three songwriters of possibly my all-time favorite band, the Rheostatics. Any Rheostatics fan can guess at In the Rock Hall's sound from the more straightforward of his tracks with his old band: Queer, Legal Age Life at Variety Store, Beerbash, My First Rock Show, Mumbletypeg, Here to There to You, Polar Bears and Trees. BidiniBand are, nonetheless, different, which is nowhere clearer than on Earth (Revisited). Under the original title Earth/ Monstrous Hummingbirds, the Rheostatics' version was an art-rock monstrosity, its dynamic swoops and warps as melodramatic as any camera shot on Citizen Kane. I love it dearly. Whether the music had anything to do with the song's essence, though — starting from its brilliant eulogy for our species "The earth was born from a giant box/ You ripped the lid right off the top/ You couldn't wait to collect your prize" — is another question. Here, it's a hard-charging *rock* song driven by Don Kerr's drums. It's full of musical ideas at its edges — sound effects, abrupt echoes, interesting harmonies — but it's carried through on passion, percussion, and energy. It's welcoming.
The last two new songs on In the Rock Hall total 18 minutes and wander a lot of territory. Folk songs, not progressive rock; just many ideas loosely organized. If I fully warm up to them, I'll have no excuse for leaving this album out of the top ten. Until then, they're a pleasant enough reminder of how woolly Dave Bidini and chums are choosing not to be.
– Brian Block
To see the rest of our favorites, visit our Favorite Albums of 2012 page!