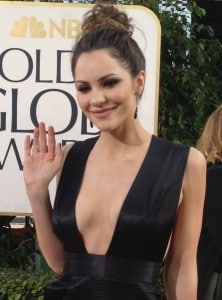 Wednesday night's show was a little rough around the edges. They re-introduced the duets and group performances which can go away as far as I'm concerned. It's a bit awkward to see them sing in groups again in such a cutthroat competition. We saw Burnell and Devin throw Lazaro under the bus as the reason for their terrible Four Tops cover. And even a halfway decent Madonna Like A Prayer cover by Janelle and Kree (Summer) was littered with Nicki comments about how badly Kree outperformed Janelle. They just need to do away with them. It's a solo competition. This isn't X-Factor.
Will American spare Lazaro yet again? It's at the point where you feel sorry for him. He has to know how out of his own league he is.
Who rocked the stage?
Colton the Muskrat performed and it sounded nice, but I can't take him seriously with the shaved and spiky mullet. How can anyone?
One Republic performed with Katharine McPhee as well. I got a lot of heat for ranking McPhee so highly on my top American Idol contests of all-time list. Some of that heat came from the guy who runs this very website. See if you can find him.
Keith Urban performed and he has that Huey Lewis thing going on. When he speaks, he has a slight accent. But when he sings, I hear no slight accent.
Who were in the bottom three?
The three guys who screwed up the Four Tops – Devin, Burnell, and Lazaro. All the girls made it and all the guys are in the bottom three. That's some American Idol justice right there (even I'm sure the voting didn't necessarily play out that way – they just did it for the drama). I now fear for Devin and Burnell's lives.
Who went home?
It wasn't Lazaro. Devin Vasquez was the unlucky soul who had to pay the Lazaro tax. He performed a great version of Impossible and for a second, I thought they were going to save them, but they didn't. I think they're saving it for when one of the girls is unfairly placed in the bottom three.
Is Lazaro the new Sanjaya?
I think Nicki thinks he's a newborn baby for some reason. (Thanks to YMCM Baby.)