But the real news was that Randy Jackson was leaving his judge's chair after 12 seasons.
This has been a very weird season. All along, it seemed like the judges would only be around for the year, and with Jackson gone, it seems like the rest of the judges will also leave the sinking ship. Can't we sign these judges to two year deals?
Who rocked the stage?
Lauren Alaina surprisingly took the stage with the first single from her second album, called Barefoot And Buckwild. Alaina looked good, dropping some weight in the proces while still showing that young fire that she had a few years ago while battling Scotty McCreary.
Alicia Keys showed up with short hair while performing Tears Always Win. Swizz Beatz must've been proud.
While Mariah Cary didn't necessarily perform live, she did show off her new music video for #Beautiful with Miguel. I'm not sure what the hash tag is for. The song is very Miguel, but the video is very Mariah. She was trying to shake what her mama gave her throughout.
Who is going to the final two?
It was a very interesting final two to say the least.
If you started watching from the beginning, there were two contestants who stood above the others. Those two were Candice and Kree (Summer). But when the smoke cleared, Angie had surpassed Kree (Summer) and Kree looked like she had lost her smile. So when the vote came down Thursday night, of course it was Angie who was eliminated in a surprise of all surprises. I had Angie pegged for winning.
As it turns out, what we expected from the beginning has come true. It's Kree (Summer) vs. Candice. And Nicki says to work it.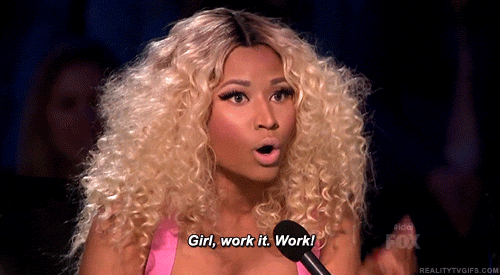 Tonight's American Idol featured quite a surprise. I predicted that Kree would go home after Wednesday's performances. And let's just say that didn't happen.