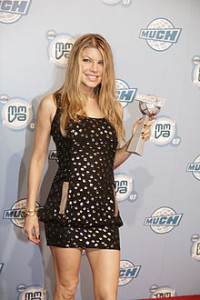 I understand the Black Eyed Peas perform tonight. Sigh. That just means I'm going to see the Fergie-monster in my nightmares when I go to sleep. And David Cook, I mean Kris Allen, I mean Lee DeWyze is also going to perform tonight.
Last night, I thought Miss Haley and Miss Naima performed pretty badly. I think Miss Karen could also be on the cutting block, but J. Lo loves her too much for people to see how pedestrian she's been so far.
I think the Idol contestants are performing a Born This Way and Born To Be Wild mash-up. All the members of Steppenwolf decided to put on t-shirts made out of meat to show their disproval.
Ryno calls Jacob, Lauren, and Casey to the stage. It'd be hard to imagine either of the three being in any real danger. Ryno tells Jacob he's safe and he has to pretend that he was worried. Ryno tells Lauren that she's safe too. Ryno tells Casey he is also safe. He thought he was a goner. I think he fell for the banana in the tailpipe. Come on Casey! You know you weren't going anywhere son!
Ryno calls up Haley and Paul. Haley already has the boo-boo face going. She knew what was coming. She and her red lipstick are in the bottom three, while Paul is safe. [sarcasm]Yay! More drunken dancing![/sarcasm]
That ever original artist who sounded nothing like the two previous American Idol winners before him, Lee DeWyze is singing his new song Beautiful Like You. Blake Lewis just gave Lee a thumbs down and said at least he was a creative cookie-cutter white guy.
Ryno asks Lee to give the Idol contestants advice and Lee starts with, "I mean …" No really Lee, it's not like we didn't understand you and you had to reiterate considering you didn't say anything before saying, "I mean." Crystal Bowersox lost to this dude?
Ryno brings Scotty, Pia, and James to the stage. If either of these are in the bottom three, we riot. Ryno tells Scotty that he's safe. He says that Pia is also safe. He finally tells Big Game James that he's safe too.
That leaves us with Stefano, Naima, Thia, and Karen.
He brings up Stefano and Naima to the stage. One is safe and one is in the bottom three. Stefano, the new Elliott Yamin is safe, and Naima is in the bottom three. He then brings up Karen and Thia. Karen is in the bottom three. Maybe the audience is finally seeing through Karen's very so-so performances.
The Black Eyed Peas are on stage. Fergie has a dreamboat body, but a shipwreck face. They're performing Just Can't Get Enough. Fergie has either had bulldog cheek implants, or she had a bad day. Fergie's one of those girls who looks good from afar. Oh yah, the song is pretty wack. Dirty bit.
We're back to the bottom three. Your girl Naima is safe. So it's down to Haley's lipstick and Karen. Whoa, Karen is the goner! Ryno's trying to tell Karen that the judges may bring her back. We know that's not happening. She could sing La Bamba with the ghost of Richie Valens behind her and they're not bringing her back. She could've asked a very pregnant Mariah Carey waddle out on stage and sing Hero with her and they weren't going to save her.
Randall says they're not going to use the save on Karen, but it wasn't unanimous. I think we know who tried to keep her. Here's a hint: her name is Jennifer Lopez.
Seacrest out!
Photo of Fergie by Wikipedia and licensed under the Creative Commons Attribution 2.5 Generic license